How to create a great Helpouts listing
Your Helpouts listing is the first introduction new customers will have to you, so it's important to make a good impression! A good listing is clear, descriptive, well-written, and addresses the key questions prospective customers will likely have about your services.
There are six main components to a great Helpouts listing: photo, title, description, qualifications, price and introduction video.
Here are some tips for creating a great Helpouts listing:
Add a photo related to your Helpout: You need to add a photo to your list, but make sure it's a good photo that gives a visual representation of your service. You'll also need a provider photo. See more photo details below.


Use a clear and descriptive title: The title should be short and clearly describe the service you're providing. If the Helpout is tailored for a specific skill level, it should be clearly stated in the title (ex. Guitar lessons for beginners). You can use up to 40 characters in the title of your listing.


Describe your service and experience: Write a strong and informative summary that explains exactly what the session will include and any preparation the customer may need to do beforehand. For the description of the Helpout, the search results will show about 150 characters. But the entire description will show on your listing page. Add some personality, and let your passion for the subject come through loud and clear. Tell people why they should pick you. Try to do it in about 3 - 5 sentences.


Qualifications: Explain why you are uniquely qualified to provide the service. Three or four bullet points should do the trick. Make sure to include any licenses or certifications you may have for your field. Summarize your expertise—list years of experience, training, degrees, or anything else that demonstrates your skills and passion in this area. For example, if you are a professor at Harvard, include a link to your professor page on harvard.edu.


Pricing guidelines: Learn more about pricing options and tips.


Add an introductory video: Once you've created your Helpouts listing, you need to create an introductory video. This is a good way to give potential customers a better understanding of what you'll offer. Watch a sample Helpouts video by a provider. See more video tips below.


Choose a cancellation policy: If you're charging customers for your Helpout, choose the right type of cancellation policy that works best for your services.


Outline any supplies or pre-work needed for the Helpout: Clearly list any materials customers will need to bring to the Helpout. For example, if you're offering guitar lessons for beginners, customers should be instructed to bring a guitar, sheet music, and any other items they'll need.
Video tips
Length: The video must be a minute or less in length.
Quality: HD is best and we recommend 720 pixels.
Content: Introduce yourself and summarize your experience. Focus on what the Helpout will offer and why you're qualified to provide it. This is a chance for the viewer to know more about you and your Helpouts listing. Start with a hello and your name. Then provide a few simple facts about the help you have to offer, your passion for the subject matter, and your expertise.
Tone: Be yourself and keep the tone natural. Remember to smile as well!
Photo tips
Provider photo: This is your profile photo, and it's the same as your Google+ profile photo. You need a provider profile picture for your listing to be approved. The photo should be of your face or your company logo and should fill the majority of the photo space. If you want to change your profile photo , you can do it in your Google+ account.
File type: Either PNGs and JPGs will work, though keep in mind that PNGs are better for graphics, and JPGs are better for photos. It's better to have a higher resolution of at least 80 kb.
Listing photo: Your listing photo will show customers what your listing is about. Find something that tells a story or gives a little insight about help you will offer to people. For example, if you are going to give a Helpout about weightlifting, show a nice photo of weights. We don't recommend using photos of yourself. The title of your Helpout will be shown at the bottom of your cover photo. Make sure the bottom of your image is not white, so that people can read the title well. The listing photo will appear in two sizes:

On the listing details page, the photo will be 790 x 280 pixels.
In search results and on Your Helpouts page, the photo will be 140 x 115 pixels.
Photos that are at least 900 pixels wide and horizontal in orientation work best.
Example of a bad listing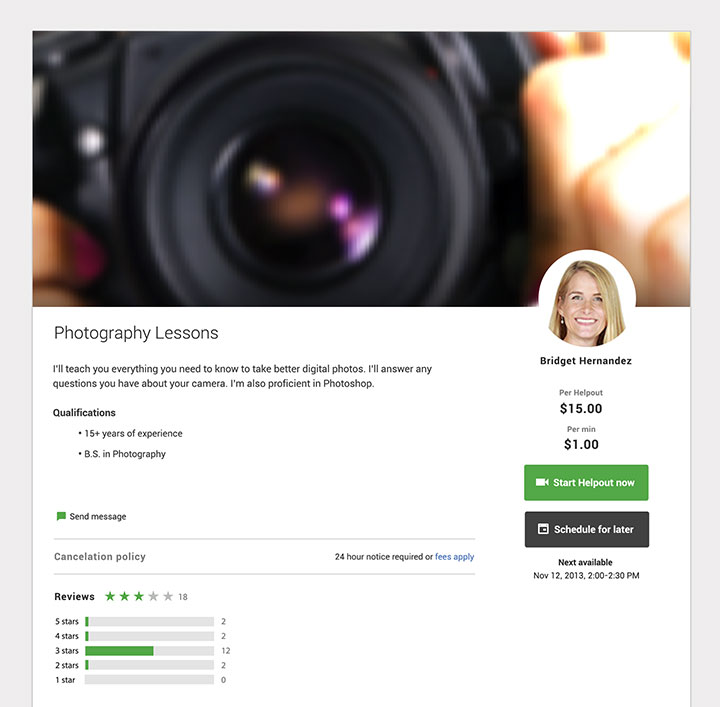 Example of a great listing