Introduction to Helpouts
Helpouts is an easy and convenient way to get help over live video. No matter who you are, where you are, or what time it is, you can talk to someone who can help you.
Here's what Helpouts offers: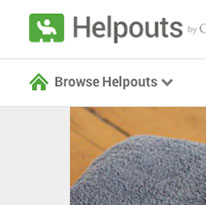 A wide variety of providers. People offering help through Helpouts can be large, medium, or small companies as well as individuals. We call them Helpout providers and we screened them to confirm they are qualified. You can find the help you need by searching Helpouts, by browsing our categories, or through direct links on the web.
100% money-back guarantee. We offer a full money-back guarantee. If you aren't satisfied with a Helpout, we'll refund your money.
Live interactive video. Helpouts are conducted through live video calls with the provider. During the session, you can point your camera to show what you need help with, or take a photo, or even allow the provider to remotely access your computer to fix a problem. For example, you can point your camera at a broken appliance. If you don't want the provider to see you, you can always turn off your camera. If both you and the provider agree ahead of time, you also can record the Helpout, and it'll automatically be saved in your Google Drive.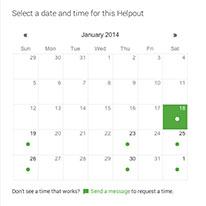 Scheduling flexibility. There are two ways to get a Helpout -- instantly and scheduled. If a listing has a green "Available for live help now" button, you are just a few clicks away from getting help instantly. Otherwise, you can see when providers are available for Helpouts. You can pick a time slot or send a message to request a new one.
Payments. All payments are done through Google Wallet so you'll need to create a Google Wallet account before scheduling a paid session. Free Helpouts sessions don't require a Wallet account.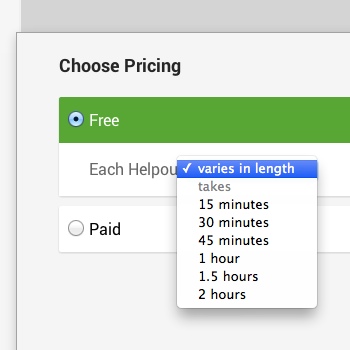 Pricing options. There are two kinds of pricing based on either a per-minute or per-Helpout session. Providers set the prices. Some providers offer both options, and you can choose which one is best for you.
Reviews. At the end of each Helpout, you can write a review of the session to help others decide whether this Helpout is right for them. You can also use these reviews to decide which Helpouts you want to sign up for.
Share your favorite Helpout. You can easily share your favorite Helpout through Google+, Facebook, Twitter, or YouTube.