Start playing with people nearby
With select multiplayer games on Play Games, you can easily start playing with people nearby by turning on the "Nearby Players" option. When people near you also have the game open and the option on, they can join the game instantly.
Learn how the Nearby Players feature detects people around you (usually within 300 feet).
Invite someone near you to play
On your Android phone or tablet, go to the multiplayer section within a game.
Tap Nearby players: Off to turn the feature on.
Under "Players near you," tap the name of a player.

Only people who have the same game open and the Nearby Players option turned on will appear in this list. You can't invite friends who are nearby if they don't have the same game open.
Players do not need to be in your Google+ circles to appear in this list.

Tap Play.
Nearby Players will turn off every time you exit the game or the multiplayer section within a game; you'll need to turn it on again to start another game. Turning Nearby Players on or off within a game will not change the Nearby setting of your Android device.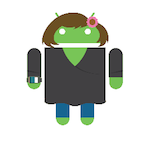 Andrea is a Google Play expert and author of this help page. Leave her feedback below about the page.
Was this article helpful?
How can we improve it?