Read books on Android
You can choose from millions of titles on Google Play to read with the

Google Play Books app and pick up where you left off on your phone, tablet, or computer. Your library is synced to your Google account, so your library will be the same on all your devices when signed into the same account.
The Google Play Books app is available on Android and iOS for supported mobile devices running Android 2.2 or iOS 5.0 and above.
Read Now
Find books you've recently read or added to your library and personalized recommendations on the Read Now tab. You can select a book to start reading or use the pin icons to save a book on your device for offline reading.
My Library
You can find all the books you've purchased and files you've uploaded using your Google Play Books on My Library. You can also select
Menu > Sort (depending on your device, your Menu icon may look different) to sort your collection.
To manage your collection of books and files, select the
Menu icon located alongside any item in your collection.
Keep on device: Save a book or file to your device so you can read it without an Internet connection.
Delete from library: Remove a book from your library across all your devices.

To add a book to your library again, using your computer, go to My Orders on Google Play > Hover over a book and click Menu > Select Show or hide from my library > Click Show in my library.
For uploaded files, you have the option to delete a file from your library.

About this book: Learn more about books that you've purchased by visiting the book's page on Google Play to find an overview, reviews, features, and other information about the book.
Permanently delete books from your library

To permanently delete a book from your library that you've purchased, along with all records of your purchase, you can visit Google Play on your computer (play.google.com) and follow these steps.
Note: Our support team can't look up or refund a book order once it has been permanently deleted from your account.
Visit your My Orders page on Google Play.
Click the Menu icon next to the book you'd like to delete.
Select Delete forever.
Clear your Play Books app data.
Here's how to clear your

Play Books app data.
Android
Open your device's main Settings menu.
Under "Device", select Apps or Application Manager.
Select Google Play Books > Clear data.
Chrome
Near the top right of your browser, click the Chrome Menu.
Select Settings.
Near the bottom of your screen, click Show advanced settings.
Under "Privacy", click Clear browsing data.
Check the box for "Hosted app data".
Click Clear browsing data.
Search and sort
You can search the Google Play Store at any time using the Google Play Books app to find your next favorite book using the

search field at the top of your screen.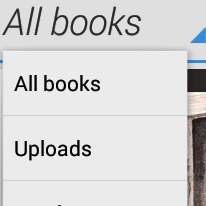 If you'd like to just view files you've uploaded or books you've purchased on Google Play, use the My Library navigation menu to filter your collection.
You can also find books and files that you've recently read or purchased on the Read Now tab.
Learn more about Google Play Books