How to track your order
Thanks for ordering on Google Play! Here's where you can find information on order shipping & tracking.
Track your order
Open your Google Play order history and sign into your Google account if you haven't already.
Search your list of orders and find the one you want to track.
Click Info.
Under Status, click on the tracking number.
If you can find your Google Play order emails in your inbox, you can check your order status from the email instead.
Use order email to track your package (suggested for phone or tablet)
After you order:
We'll send you a confirmation email telling you when your order will ship.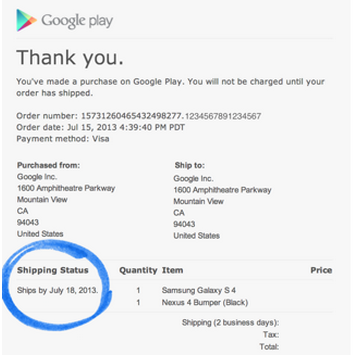 After we ship your order: You'll get a second email with its tracking number. To track your package, click the link in your email.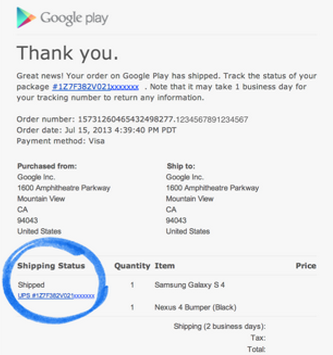 Find out when your order will ship
Check the "Ships by" date on your orders page or your confirmation email. Your order usually takes 1-2 business days to process before it's shipped. It sometimes takes longer if order volume is high.
If your tracking number doesn't show shipping information after 1 business day, contact our support team.
How long your delivery takes
We can't guarantee the delivery times you'll find on this page, but they're good estimates of how long it should take for your order to reach you.

Order a device on Google Play
Order is processed
(Leaves warehouse in 1-2 business days)
Order is shipped
(Ship time varies by selected shipping method)
Order arrives at shipping address
Business days: Monday - Friday.
Shipping options: Your delivery time and shipping cost depend on if you chose Next Day, Two-day, Ground, Saver, or another shipping option. (Your order's weight also affects cost.)
If you chose Saver shipping, local post will deliver your order. You won't get a tracking number.
Where you live: Your shipping country makes a difference in delivery time.
Find your country's estimated delivery time
Location
Estimated time to your door
Track your package
Australia
2-12 business days
eParcel
Toll
Austria
3-10 business days
UPS
Belgium
2-7 business days
UPS
Canada
3-12 business days
UPS
Purolator
Canada Post
Denmark
3-9 business days
UPS
Finland
4-12 business days
UPS
France
3-9 business days
UPS
Germany
2-8 business days
UPS
Hong Kong
2-6 business days
Yamato
India
3-10 business days
Fedex
Blue Dart
Aramex
First Flight
Gati
Ireland
2-7 business days
DHL
Italy
3-12 business days
UPS
Japan
2-10 business days
Yamato
Korea
2-10 business days
Hyundai
Netherlands
2-5 business days
UPS
New Zealand
2-9 business days
UPS
Norway
3-10 business days
UPS
Portugal
4-14 business days
UPS
Spain
3-14 business days
UPS
Sweden
3-9 business days
UPS
Switzerland
4-9 business days
UPS
Taiwan
2-11 business days
UPS
United Kingdom
2-6 business days
Parcelforce
United States
2-12 business days
FedEx
Note: In the case of a missed delivery, carriers will leave a note at your door. In some countries, the carrier may also notify you by SMS text message.
My order has been delivered but I can't find it. Where is my order?
If you can't locate a package that has been delivered, check your tracking information for delivery details or see if someone else accepted your delivery. If you still can't find your package, contact your shipping provider.