Users depend on descriptions of your app to help them understand its functionality and purpose. We don't allow apps with misleading, improperly formatted, non-descriptive, irrelevant, excessive, or inappropriate metadata, including but not limited to the app's description, developer name, title, icon, screenshots, and promotional images. Developers must provide a clear and well-written description of their app. We also don't allow unattributed or anonymous user testimonials in the app's description.
Your app title, icon, and developer name are particularly helpful for users to find and learn about your app. Don't use emojis, emoticons, or repeated special characters in these metadata elements. Avoid ALL CAPS unless it is part of your brand name. Misleading symbols in app icons are not allowed, for example: new message dot indicator when there are no new messages and download/install symbols when the app is not related to downloading content. Your app title must be 30 characters or less. Don't use text or image in the app title, icon, or developer name that indicate store performance or ranking, price or promotional information, or that suggests relations to existing Google Play programs.
In addition to the requirements noted here, specific Google Play Developer Policies may require you to provide additional metadata information.
Examples of common violations
① Unattributed or Anonymous User testimonials
② Data comparison of apps or brands
③ Word blocks and vertical/horizontal word lists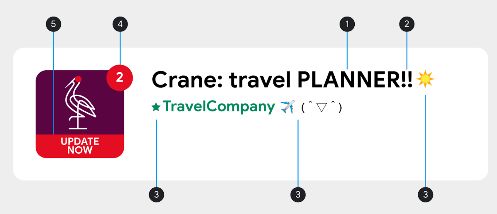 ① ALL CAPS although not part of brand name
② Special character sequences that are irrelevant to the app
③ Use of emojis, emoticons(including kaomojis), and special characters
④ Misleading symbol
⑤ Misleading text
Images or text that indicate store performance or ranking, such as 'App of the year,' '#1,' 'Best of Play 20XX,' 'Popular,' award icons, etc.

Images or text that indicate price and promotional information, such as '10% off,' '$50 cash back,' 'free for limited time only,' etc.

Images or text that indicate Google Play programs, such as 'Editor's choice,' 'New,' etc.
Here are some examples of inappropriate text, images, or videos within your listing:
Imagery or videos with sexually suggestive content. Avoid suggestive imagery containing breasts, buttocks, genitalia, or other fetishized anatomy or content, whether illustrated or real.
Using profane, vulgar, or other language that is inappropriate for a general audience in your app's Store listing.
Graphic violence prominently depicted in app icons, promotional images, or videos.
Depictions of the illicit usage of drugs. Even EDSA (Educational, Documentary, Scientific, or Artistic) content must be suitable for all audiences within the store listing.
Here are a few best practices:
Highlight what's great about your app. Share interesting and exciting facts about your app to help users understand what makes your app special.
Make sure that your app's title and description accurately describe your app's functionality.
Avoid using repetitive or unrelated keywords or references.
Keep your app's description succinct and straightforward. Shorter descriptions tend to result in a better user experience, especially on devices with smaller displays. Excessive length, detail, improper formatting, or repetition can result in a violation of this policy.
Remember that your listing should be suitable for a general audience. Avoid using inappropriate text, images or videos in your listing and adhere to the guidelines above.