Describe What's New in your app
Keep your users informed about recent changes and updates to your app by providing What's New text for each app version you distribute. You can manage the What's New details for your app using the Google Play Developer Console.
Updating What's New
Any user with access to Edit store listing, pricing & distribution can update What's New text for your app using a few different methods. To get started:
Choose the app you want to update
Go to the APK page on the left navigation
Click on the tab for the appropriate track (Production, Beta, or Alpha)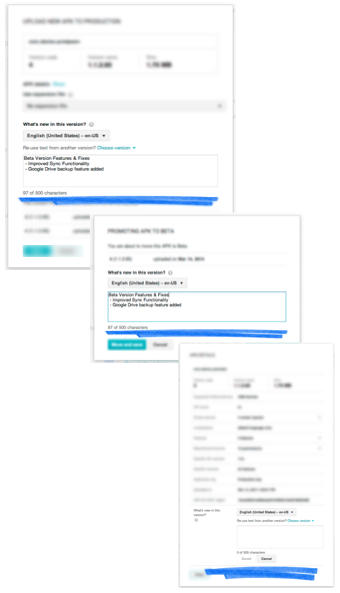 From the APK Upload dialog
Click Upload New APK…
Upload your new version
Update the text in the What's new in this version? section
Save your new version
From the Promote dialog (Alpha or Beta only)
Click the Promote… button
Choose the version you're promoting to (e.g. Promote to Prod, Promote to Beta)
Update the text in the What's new in this version? section
Click Move and Publish to finish the promotion
From the APK Details
Click on the APK version that you'd like to update
Click Edit or Add text, and update the text in the What's new in this version? section
Click Save and Publish at the bottom of the dialog
The Store Listing page
Recent Changes are no longer managed on the Store Listing page. Manage your What's New text from the APK page using the instructions above.
Reusing text from another version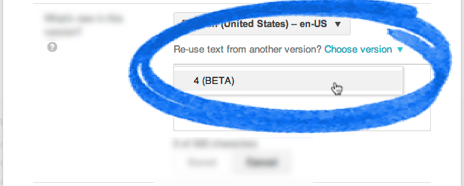 You can avoid retyping your What's New text by reusing the text from a different version. If reusable text is available, you'll see the option when adding or editing your text. Reusing text from another version also copies the What's New text for other languages you have provided a translation for.
Managing translations
Text in the What's New section may be automatically translated on Google Play. If you prefer to provide a specific translation for a given supported language, you must first Add translations for that language on your Store Listing. Once defined, you can choose the language from the dropdown and add the translation.
What's New displayed on Google Play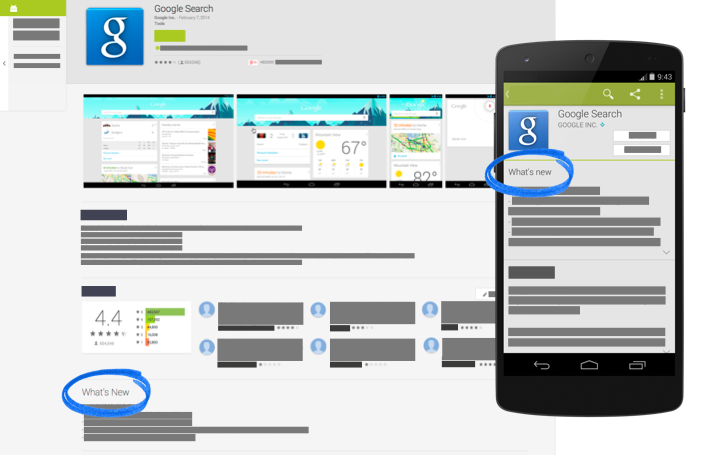 Users browsing Google Play on their device will see the most relevant What's New text in the Play Store app. The text is based on the version of your app they are eligible to download. For example, a user that is opted-in to your Alpha tester program will see What's New text from your Alpha APK Details.
Users viewing Google Play in a web browser only see the Production version of your app's What's New text.