How to Get the Right Fit and Change Bands on your Google Pixel Watch
Adjust the size of your Google Pixel Watch band for your comfort, and change the band to match your style.
Wearing your Google Pixel Watch with the right fit, keeps you comfortable and lets our sensors, such as the Heart Rate sensor do their job. Generally, make sure your band is not too tight. We suggest wearing the band snug against your wrist but loose enough that it can move back and forth. In addition, sensors will only work if you wear your Google Pixel Watch on the top of your wrist.
During exercise, try moving the band higher on your wrist (2-3 finger widths above your wrist bone) to get a better fit so it's secure, but not too tight. Our heart rate sensors work best when they maintain contact with your skin. Lower the band on your wrist and loosen it after exercise.

Attach a band
Turn your Google Pixel Watch over.
Use the band to press the band release button and slide the band into place.
Repeat on the other side.
Detach a band
Turn your Google Pixel Watch over.
Press the band release button, and then slide the band over the band release button while pulling away from the watch.
Repeat on the other side.
Put on Google Pixel Watch
Note: For Active band (included with Google Pixel Watch). Instructions for putting on other bands will vary.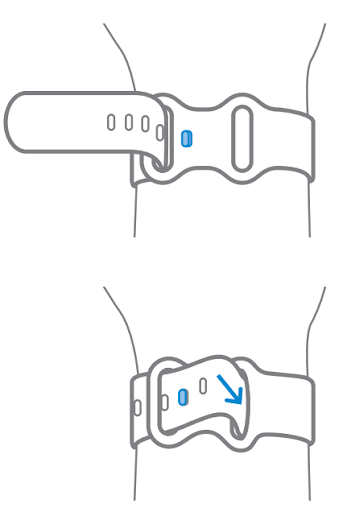 Slide the band through the outer loop.
Press the metal peg into a hole.
Tuck in the band. If it's too long, try the small band.
Take off Google Pixel Watch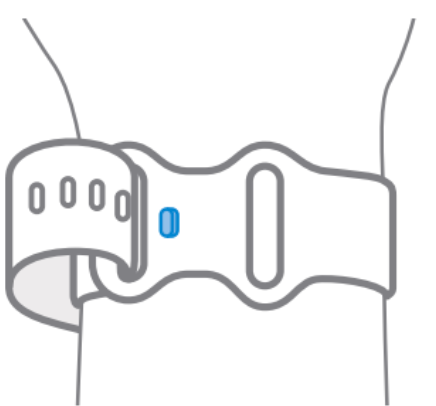 Untuck the band.
Bend the band back to release the peg.
Wear Google Pixel Watch
Review these recommendations for wearing your watch for optimized comfort and performance.
Loosen the band if it causes discomfort or irritation and take the watch off for a break if it persists.
Remove the watch for an hour or so after extended wear. A great time to do this is while you are showering. Even though it is ok to shower with our water resistant products, not doing so reduces the potential for exposure to soaps, shampoos, and conditioners, which can cause long-term damage, or other skin sensitivities, you may be more likely to experience skin irritation from a wearable device.
Remove your watch if you experience any skin irritation or other discomfort on your wrist or in your hand, such as redness, soreness, tingling, numbness, burning, or stiffness. If any of those symptoms persist, please contact our customer support and consider contacting a dermatologist.
Third party accessory bands
Accessory bands from third party companies may not fit properly.
These bands may contain materials that could impact those with skin sensitivities or other concerns. For best results, use only Google branded or Google authorized accessory bands.
Wrist orientation settings
Choose wrist orientation based on which hand you wear your watch on.
On Google Pixel Watch
On Google Pixel Watch, tap Settings Display Wrist orientation
Select the wrist that you wear your watch on.
Scroll down and select the location of the crown.
Scroll down and tap the checkmark to save your settings.
In the Google Pixel Watch app
On your phone, open the Google Pixel Watch app .
Tap Watch preferences Watch orientation.
Select which wrist your watch is on and the location of the crown.