How to Use Google Wallet on your Google Pixel Watch
With Google Wallet1 on Google Pixel Watch, you can store your credit and debit cards for contactless payments.
Add a card to your Google Wallet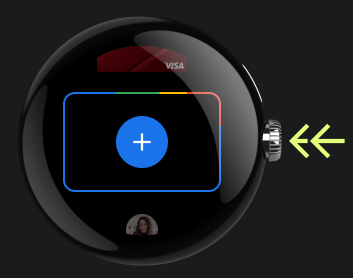 Add a credit or debit card
Important:
PayPal on Google Wallet isn't supported on watches.
Currently, you can't add a discount, loyalty, or rewards card to Google Wallet on your watch.
If you add a card to your watch, you don't need your phone to pay.
On your smartwatch, open the Google Wallet app .
Tap Get started.
Set up screen lock if you haven't already.
On your phone, follow the instructions to add a Suica, credit, or debit card.
Tip:
This only adds a card to the Google Wallet app on your watch, not your phone.
You may find instructions to download Mobile Felica Client app or Mobile FeliCa Support for Wear OS app on the watch. To work on your watch, these apps require emoney.

To use emoney cards, follow the instructions and download the apps from the Play Store directly from your watch.
5. Your card now shows up on your watch.
Make a purchase
Important: For QUICPay and iD, you don't need to open the Google Wallet app to pay. Just hold your watch to the reader.
Open the Google Wallet app .
Hold your watch over the contactless payment reader until you hear a sound or feel vibration from your watch.
If asked, tap Credit regardless of your type of card.
For debit card transactions, you may have to enter a PIN. Use the PIN that you set up with your bank.
Pay with Suica on Google Pixel Watch (Japan only)
With Google Pay, you can add Suica to your Google Pixel Watch to pay for transit and other goods anywhere Suica is accepted.
Note: To use Suica, you must have a Google Pixel Watch purchased in Japan.
1 Google apps and services require LTE or a paired phone within Bluetooth range of your device and are not available in all countries or languages. Data rates may apply.