You can make contactless payments in stores and at payment readers with your Android phone.
Where you can make contactless payments
You can pay with Google Pay wherever contactless payments with near-field communication (NFC) are supported. To find out if contactless payments are supported, find the Google Pay symbol or Contactless symbol.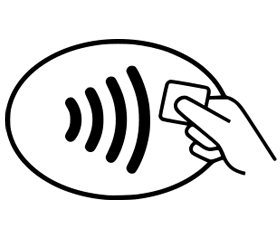 Contactless symbol
Before you make contactless payments
Add a supported debit or credit card to Google Pay and follow the steps to verify your card with your bank. Learn which cards are supported.
Turn on near-field communication (NFC). To turn on NFC, check your phone's settings app. To find the setting, search for NFC.
How to pay
How to pay in stores with Google Pay
Step 1: Unlock your phone
Unlock your phone and keep the screen on. You don't need to open the Google Pay app.
Step 2: Connect to the payment reader
Hold the back of your phone just above the payment reader for a few seconds.
When the contactless payment is successful, a blue check mark appears on your phone.
Tip: If your phone doesn't connect with the payment reader, hold your phone closer to the payment reader and move it around slowly. Depending on the model, the NFC antenna may be in the top or middle of your phone.
Make a contactless payment
Step 3: Follow instructions on your screen
Some stores use older software that asks for a PIN or signature. If prompted, follow any instructions on your screen.
Debit cards: Enter the PIN you set up with your bank.
Credit cards: For larger transactions, sign the receipt or the signature box on the screen.
Pay with a different card
You can use any card you set up for contactless payments.
On your Android phone, open the Google Pay app .
On the home screen, tap Tap to pay .
Swipe left or right to the card you want to use.
Start your payment.
Related resources