We're bringing the flexibility of standard Display campaigns and the AI capabilities of Smart Display campaigns into a single Display campaign. In addition to the existing benefits of Smart Display campaigns, you now have the ability to choose the level of AI integration that you prefer for bidding, creatives, and targeting.
Any Smart Display campaign in your account will migrate without any action needed on your end. Also, the migration should not cause any fluctuations with your campaign's performance. Learn more About (newly simplified) Display campaigns.
Display campaigns serve visually engaging ads on the Google Display Network. The Display Network helps you reach people as they browse millions of websites, apps, and Google-owned properties (such as YouTube and Gmail).

Display campaigns offer a simple, intelligent solution to managing the complex variables of display advertising, and may be the most effortless way to broaden your customer base and win new conversions. Use a Display campaign to show ads in almost all formats across the Google Display Network, reaching people at all stages in the buying cycle—from people with demonstrated interests to customers just about to buy.
As announced on November 1, 2022, similar audiences will be transitioned to more durable solutions. Starting August 1, 2023, similar segments will be gradually removed from all ad groups and campaigns in Google Ads and should be completed by the end of the month.
Display, Discovery, and Video action campaigns that are still using similar audience segments after August 1, 2023 will be opted into optimized segments.
Video campaigns with "Product and brand consideration" or "Brand awareness and reach" objectives will be opted into audience expansion.
If you opted out before August 1, 2023, ad groups and campaigns targeting similar segments will be paused. Make sure to unpause them and add relevant targeting criteria.
Learn more about the Changes to audience segments.
Benefits
Reach people in multiple places: Display campaigns can reach people worldwide across 35 million websites and apps, and on Google-owned properties (YouTube and Gmail). This allows you to expand your reach beyond just Google Search.
Build campaigns around your goals: Drive sales, leads, and website traffic or build awareness and consideration for your business, product, or service.
Designed for ease of use: Display campaigns use AI-powered solutions across targeting, bidding, and formats to reach a new or existing audience. This can help your campaign deliver the best campaign results, friction-free.

Optimized targeting: Find the best performing audience segments that include potential customers with the highest likelihood to help you meet your conversion goals. Learn more about optimized targeting
Smart bidding: Bidding that uses AI to optimize for conversions or conversion value in each and every auction. It helps you save time and improve performance. Learn more about Smart bidding

A top-performing campaign in minutes: You enter the building blocks for your ads—like headlines, images, and logos—and we'll find you as many customers as we can within the CPA bid and budget you control.
Smarter, not harder: Display campaigns optimize within days. Google AI selects the best combination of assets to give your campaign the best performance. In this way, you can learn which of your headlines, descriptions, images, and logos perform best.
How the Google Display Network works
The Google Display Network helps you find the right audience with its targeting options that strategically show your message to potential customers at the right place and the right time. Display campaigns include AI capabilities that help improve campaign performance:
Bidding: Smart Bidding strategies will be recommended to you based on your advertising goals. You can, however, choose not to use the suggested bidding strategies, and can manually select your bidding strategies.

Pay for conversions: You can pay for conversions, instead of clicks on Display campaigns that use Target CPA bidding. When setting up your campaign, go to the "Bidding" section. Look for the header labeled "Pay for" and select Conversions from the dropdown menu. Learn more about pay for conversions.

Creatives: By default, your Display ads are responsive (unless you're using uploaded Display ads). That means that you can upload different assets into Google Ads, and Google AI will determine the optimal combination of assets as well as the optimal size, appearance, and format of assets to fit available ad spaces with an ad format that is most likely to perform well.
Targeting: Optimized targeting uses information such as keywords on your landing page to help you reach new and relevant audiences that are likely to convert. Optimized targeting is set as the default targeting method for your Display campaigns. If you prefer not to use optimized targeting, you can select a different form of targeting.
Optimize your campaign as you create it
As you create your campaign, you may receive notifications based on your setting selections. These notifications may alert you of issues that can result in decreased performance or that may be significant enough to prevent you from publishing your campaign.
The campaign construction navigation menu that appears as you construct your campaign provides a holistic view of your construction progress and will call attention to notifications that you may want to address. Move between steps in the navigation menu to easily review and resolve potential issues with your targeting, bidding, budget, or other campaign settings. Learn how to Set up your campaign for success.
Responsive display ads
Display campaigns use responsive display ads. Responsive display ads adjust their size, appearance, and format to fit just about any available ad space and improve performance. You upload various assets (images, headlines, logos, videos, and descriptions) in Google Ads and the optimal combination and size of assets will appear in ads across websites, apps, YouTube, and Gmail.
You can also use our library of images at no cost. Both new and advanced users benefit from responsive ads because they show as "native" ads and blend into the font and feel of the publisher's site.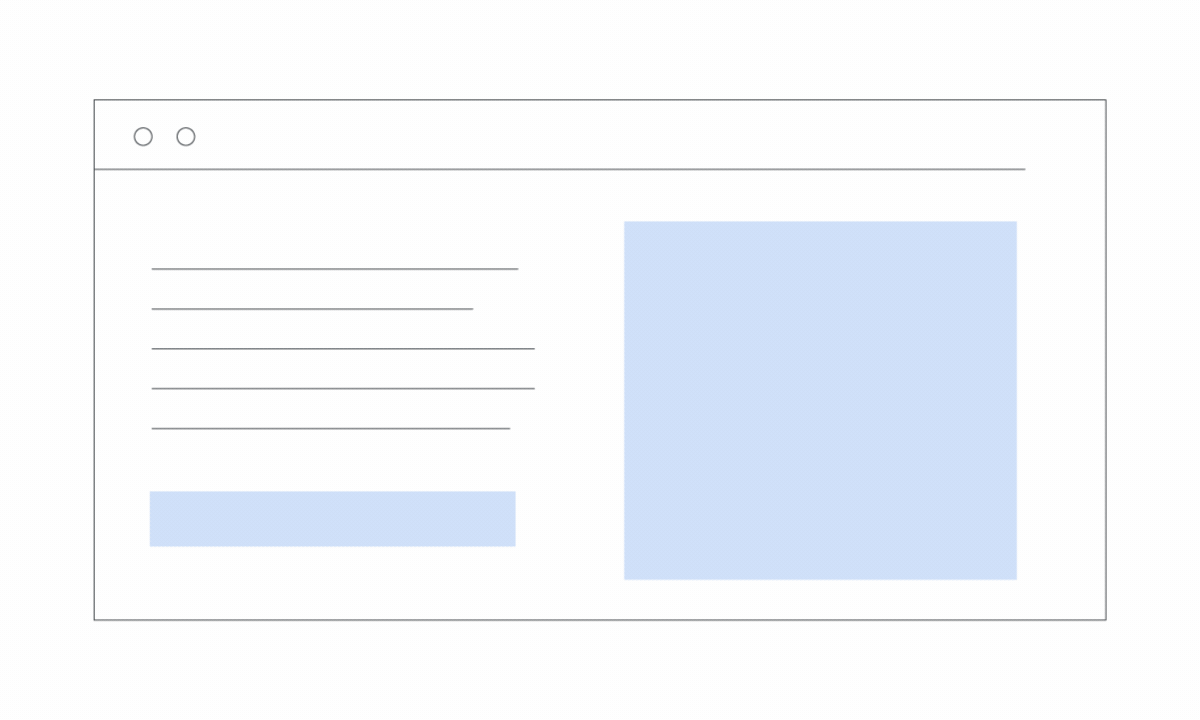 How ad creation and optimization works
Say you want to launch a campaign, but you don't know what images and text to use in your ads. You decide to enter your assets (headlines, description lines, images, and logos) and run them in a campaign. Here's what happens next.
The system combines your individual assets into ads that resize to fit any standard ad size or type, selecting the best combination for each impression.
Your ads show in targeted ways to people browsing one of the millions of websites on the Display Network.
When the assets have accrued enough data, you get reports on how well they are performing.
You learn what works best and what doesn't work, and you can adjust your campaign to use the most effective images and text.
You save time while benefiting from the system's capacity to optimize your campaign.
Other Display ad types
Uploaded image ads. You can create and upload ads for better steering. You can upload ads as images in different sizes or HTML5.
When Display ads show
While the Search Network can reach people while they search for specific goods or services, the Display Network can help you capture someone's attention earlier in the buying cycle. You can put your ads in front of people before they start searching for what you offer, which can be key for your overall advertising strategy. You can also remind people of what they're interested in when you use your data segments to reach people who've previously visited your website or app.
How performance data works
As your campaign ramps up, you'll want to find results and manage your assets. The Display campaign asset report includes example ads and performance data:
Example ads: Click "View more sizes" to find more examples in many of the sizes your ads run.
Performance data: Use your table to view data for each asset—including how Google has graded the performance of that asset based on its ability to produce conversions.
Plan ahead
Changes in the Display Network can take 12–24 hours to apply and may not show right away. Keep this in mind while creating a new campaign or making changes to an existing campaign. You may want to set up your campaign a few days before the launch and set the start date in the future.
When there are multiple changes made within a 24 hour period, they may be applied outside of the chronological order of change history.
Deep linking
With app deep linking enabled, your app's users will be directed to your in-app content from your Search, Display, and Shopping ads. If you want to enable deep linking for these campaigns, create App Links for Android and Universal Links for iOS, and enable Google Analytics for Firebase to track app conversions. Learn more about deep linking and best practices for implementing deep links.