For subtitles in your language, turn on YouTube captions. Select the settings icon
at the bottom of the video player, then select "Subtitles/CC" and choose your language.
---
An asset group is a collection of creatives centered on a theme or related to a target audience. The creatives of your asset group are used to assemble all of your ads and build an inventory for all applicable ad formats for your advertising objective.
An asset provided in an asset group can be combined with any other asset from the same group to create ads that serve across Google Search, Google Maps, Display, YouTube, Gmail, Discover feed, and Google partner websites. You may create multiple asset groups per campaign to group assets by theme or to group assets with different targeting.
Group asset groups by similar themes and audiences
Many advertisers find it helpful to base their asset groups on the sections, categories, or themes that appear on their website.
It's recommended to base your asset groups on the sections or categories of the products that appear on your website.
Listing groups
Listing groups are part of a campaign's asset group. They are made up of listings, which includes both products and collections (groups of products, assets, and rich retail data that represent a category landing page on your website).
How listing groups work
Listing groups organize your listings by the attributes assigned to them in Merchant Center. You can use them to manage which listings are included in your campaigns. Learn how to manage a Performance Max campaign with listing groups
Asset group requirements
Text specifications
| | | |
| --- | --- | --- |
| | | |
| Add 1 final URL | Add up to 5 headlines | Add up to 5 long headlines |
| | | |
| Add up to 4 descriptions | Add 1 business name | Add 1 call-to-action |
| | | |
| | Add up to 2 display URL paths | |
Image specifications
Add 3 landscape images

5120KB maximum file size

Further supported for serving on image search mode only

Add 3 square images

5120KB maximum file size

Note: Images that do not meet this aspect ratio can be uploaded and cropped within the interface.

Add 1 square image

5120KB maximum file size

For campaigns with Store Visits only

Add 1 portrait image

Add 1 square logo

5120KB maximum file size

Add 1 landscape logo

5120KB maximum file size
Legend:
| | |
| --- | --- |
| | Asset recommendations |
| | Maximum total number for all images: 15 |
| | Maximum total number for all logos: 5 |
File formats:

JPG or PNG

Minimum resolution:

Recommended is 1200x1200 pixels

5120KB maximum
file size

Recommended image safe area:

Put your content in the center 80% of the image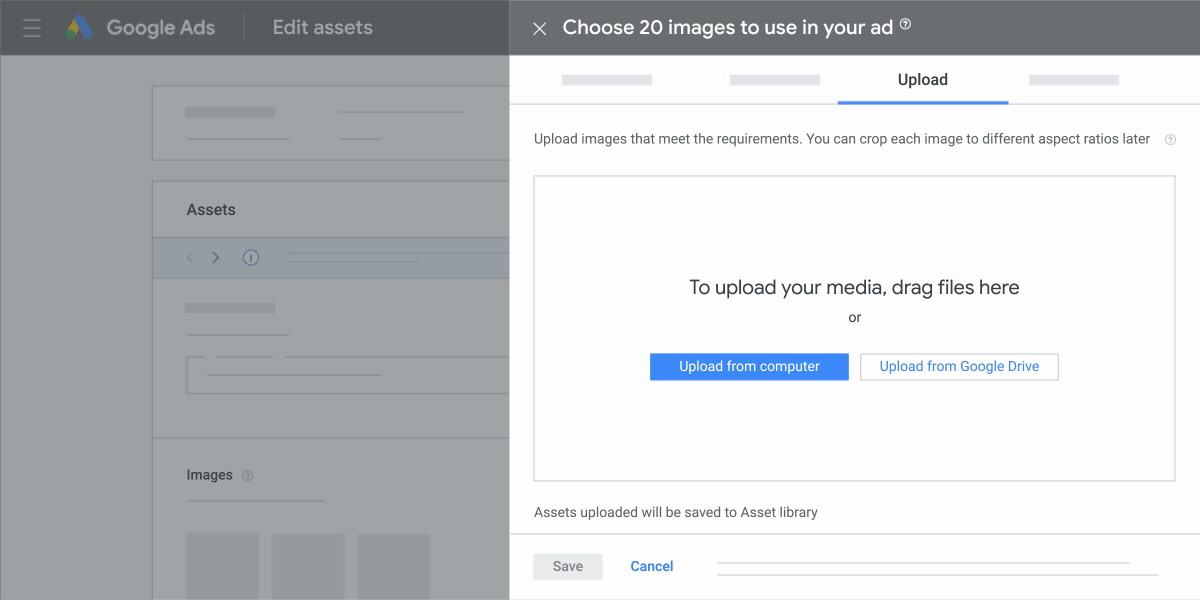 Video specifications
Tip: Google automatically resizes your video ads to increase your performance by platform and improve ad strength. If you don't plan to upload a video, consider how your other creative assets will appear if resized.
Videos longer than 10 seconds are required for all Performance Max Campaigns

If you do not upload a video, one may be generated for you from other creative

Add up to 5 videos
If you don't add a video to your Performance Max asset group, then one or more videos may be auto-generated from the assets in your asset group. Auto-generated videos may be auto-generated in longer, standard YouTube form or in a vertical format so that they may serve on YouTube Shorts. If you don't have a video asset and don't want to use the auto-generated videos, you can use the Google Ads video creation tool to create a video for use in your Performance Max campaign. Advertisers may also upload a YouTube Shorts-eligible video (vertical format, less than 10 seconds in length), which may be eligible to serve on YouTube Shorts. To learn how to create videos in Google Ads, visit Create a video using Asset library.
Google may automatically resize your video ads to increase your performance by platform and improve ad strength. After you've created and uploaded your creative assets, landscape videos may be scaled to square (1:1) or portrait (9:16) aspect ratios for YouTube Instream and YouTube shorts. Google will review each video to ensure that quality isn't lost, however if you have an issue with the resizing please contact Google support to help you opt out of this service.
Assets specifications
Though no assets are required to launch a Performance Max campaign, adding them can incentivize users to take an action on your ad.
Learn more About assets
Asset groups best practices
Use the Ad strength indicator to determine if an asset group has enough assets to drive best performance.
Ensure that all asset types (text, images, videos) are covered in every asset group.
Ensure your assets meet quality guidelines.
Create variations of assets to find the top performing creative.
Add as many assets as possible, including up to 5 headlines, 4 descriptions, images in different orientations, and videos in different orientations. Refer to the below table for more information:
Type
Asset
Minimum
Maximum
Recommended
Text
Final URL
1
1
Headline
3
5
5
Description
1
5
4
Business name
1
1
Call to action
1
1
Image
Landscape
1
20
3
Square image
1
20
3
Portrait image
0
20
1
Video
Video
1
5
1
Example of how asset groups can be used:
Asset Groups are where you manage different types of creative assets including text, images, videos, logos, and final URLs. You can create a single asset group with audience signals or you can also create multiple asset groups for different final URLs.
Note:
If Final URL expansion is on, Google may replace your Final URL with a more relevant landing page based on the user's search query, and generate a dynamic headline, description, and additional assets to match your landing page content. Learn more
About automatically created assets
.
Asset report
The asset report lists each asset used in a Performance Max campaign and allows you to compare performance across a variety of assets. You'll need to set up a Performance Max campaign to view your asset report. Learn more About asset reporting in Performance Max.