Where's Latitude?
Latitude is no longer part of the Google Maps app, and was retired completely on August 9, 2013. However, we know sharing your location with family and friends is important to you. That's why we've added some of your favorite location sharing features to Google+.
Share your location with your circles and friends
From the Google+ app, go to Settings > Location Sharing to choose which circles and friends you'd like to share your location with. Don't forget to turn on Location Reporting for your device.
See your friends on a map
You can see your friends on a map by going to the Locations tab of the Google+ app.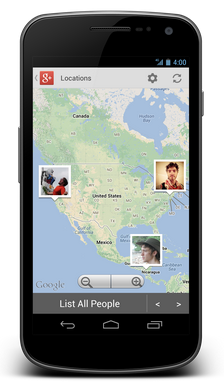 You can also view a summary of your friends' locations by tapping "List All People". Ask your friends to share their locations with you by enabling location sharing!
Learn more about sharing your location using Google+.
Start location sharing with Google+!
* The Google+ app may not be available in all countries.