Published August 20, 2014
New and improved Contacts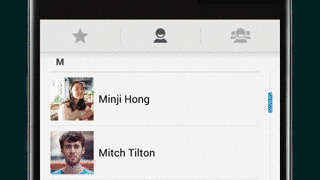 All of your Google Contacts will be available on Glass, and up to 20 of your most recent and starred contacts will be conveniently displayed for quick and easy voice access. The rest are just a swipe away. Once you've selected a contact, you'll be able to message them through Gmail, Hangouts, or SMS.
'Sup, Head nudge card
You've always been able to turn off Glass' display with a slight nudge of your head. Now the feature has it's own card in the Settings bundle, where you can turn it on and off. Head nudge is off by default. Learn more.
The Head Wake Up feature, which turns on the display with a lift of your head, needs to be enabled separately.
Nearby Events in Google Now
No plans? Not yet, at least. The Nearby Events card displays events like concerts and festivals happening near your location.
Currency Converter in Google Now
How many dollars are in a British pound? With the Google Now currency exchange card, Glass tells you the exchange rate in whatever country you're traveling in.
More voice actions
Stay hands free. Use new voice actions during a phone call and after recording a video or taking a picture.