Hi there - I have an issue with lower than expected ping when playing online games. I used to use Spectrum cable and my ping to US cloud servers was around the following:
San Francisco - 25-30ms
Dallas - 52ms
Virginia - 80+ms
Oregon - 90ms
Now with Fiber, I get:

San Francisco - 11ms
Dallas - 78ms
Virginia - 100+ms
Oregon - 110ms
This may not seem like a big difference, but it sure makes a difference in fast-paced online games that I play. Google Fiber is supposed to be the holy grail of high-speed internet but instead I am less satisfied than when I was using Spectrum Cable (1000/1000 vs 350/30). The lower ping in a limited number of local servers does not provide the value that lower pings overall does. I have called the support line and they are no help...repeating that they will pass along my message and maybe one day it'll get better. Not sure what this means. This went on for about an hour. After much insisting, I was allowed to send a traceroute to the support e-mail. Radio silence ever since.
Here's a traceroute to Overwatch servers which results in 72ms. I feel like I should be getting lower ping. Thinking about changing to Cox or AT&T but I'm not too sure I'll get better performance with them.
I've tried just about everything...different cables, restarting modem, closing down all background applications, messing around extensively with network adapter settings, changing dns, all the different CMD commands...not sure what else to do.
Any help would be much appreciated.
Thanks,
Kaz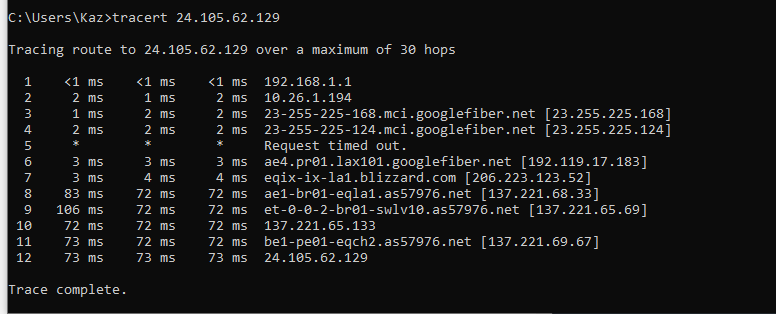 This question is locked and replying has been disabled.
This will remove the reply from the Answers section.
Notifications are off
Your notifications are currently off and you won't receive subscription updates. To turn them on, go to Notifications preferences on your Profile page.
Report abuse
Google takes abuse of its services very seriously. We're committed to dealing with such abuse according to the laws in your country of residence. When you submit a report, we'll investigate it and take the appropriate action. We'll get back to you only if we require additional details or have more information to share.
Go to the Legal Help page to request content changes for legal reasons.