Here's how Google Fiber billing works after your first statement is issued
Since we bill in advance, your Fiber billing cycle begins on the first and ends on the last day of each month you're using service. For example, your bill at the start of July will cover service for the entire month of July.
Billing cycle example
You've signed up for 1 Gig at a price of $70/mo + taxes and fees, and had it installed in May. Below is an example of what your subsequent July bill will entail after you've paid your first bill in June.
To learn more about prorated charges on your first bill, click
here.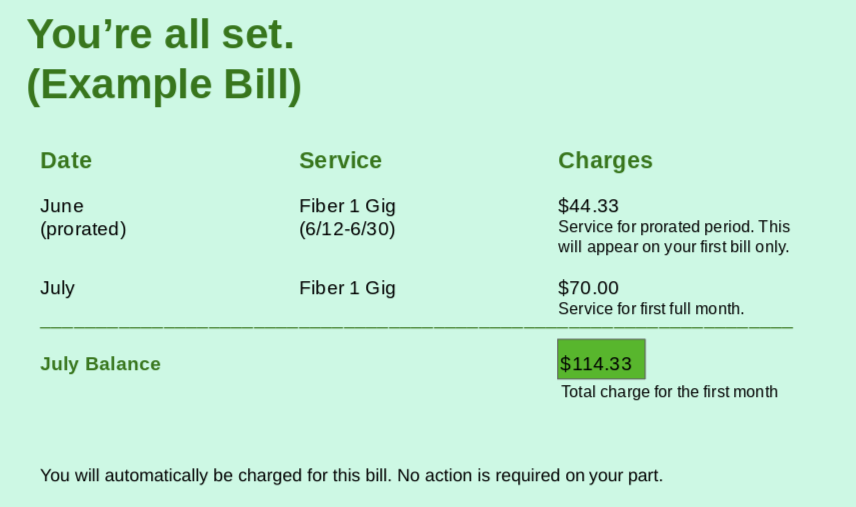 While we're not able to move your bill's due date or remove automatic billing from your account, you can
make a manual payment
at any time.
Billing timeline
The timeline below shows the billing cycle for the month of July. Click on the image below to see an expanded view.

Billing statement
As a reminder, we'll email you a PDF version of your bill as an attachment at the beginning of every month. You can also access your Fiber account a few days after the beginning of each month to view your statements online. We don't currently send paper bills by mail, but you can download each bill displayed separately as a PDF file within your account.
What's included in your statement
Your bill will contain the Fiber service charge for the current month and any applicable taxes and fees, as well as add-on services, like video on demand or extra TV boxes, if requested during the previous month. Any prorated charges or credit caused by changing your service plan will appear on the following month's bill.
Emailed statement
This email will include important billing information, like the balance due and your scheduled auto-payment date.
Account statement
Your attached statement will display in detail the past balance, the previous payments and your current balance.
Automatic payment withdrawals
Automatic payments ensure your service is continuous and uninterrupted. We automatically charge your primary payment method for service on the 13th of each month (18th for California residents). No action is required on your part. Although we're unable to change the date you're billed, you won't need to remember to pay your monthly bill to get service.
Now that you've gained a better understanding of how Fiber billing works, click on the link below to see more options to manage your billing information using your Fiber account.