Fiber TV features overview
Find the shows you love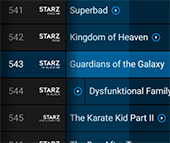 Easy-to-browse on-screen guide
The on-screen guide shows two weeks of upcoming programming for all the channels in your TV package, so you can always find your favorite shows. You can even view program listings in the past to find shows to watch On Demand or record when they air again. Also, the guide gives you quick access to information about shows, including upcoming airings, episodes, parental and critical ratings, and a list of the cast and crew. Learn more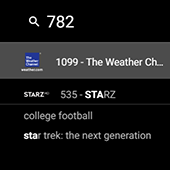 Smarter search
Find what you're looking for—fast! With Fiber TV smart search, you can use your remote to enter search text right from the live TV screen. Just press the numbered buttons that correspond to letters on the remote keypad to look for a movie, TV show, actor, and more. Smart search predicts what you're looking for, so you'll usually find what you want after entering just a few characters. Learn more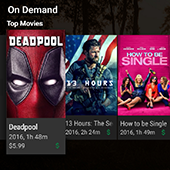 Instant access to thousands of movies and TV shows
Fiber TV's On Demand library includes thousands of hit movies, TV shows, documentaries, and more—many of them free! But with all those shows, it's still easy to explore the On Demand library: Content is organized into categories, such as type of show, networks, popularity, and timely themes. There's even a section dedicated to kids' programming. In addition, you can sort and filter the categories so you can quickly find something great to watch. Learn more
Personalized recommendations
Want help finding something to watch? Fiber TV learns what you like to watch and offers targeted recommendations for TV shows, movies, and live sports events. Browse the recommendations for shows airing now, recorded shows, and On Demand shows, and watch any of them instantly. (Note that recommendations are available after you've used Fiber TV for about 2 to 4 weeks.) Learn more
Get more from your subscription
TV on the go
Your Fiber TV subscription includes TV Everywhere, which lets you enjoy your favorite shows wherever you are. With TV Everywhere, you can stream content from many of your favorite networks right on your computer or mobile device—anywhere you're connected to the Internet. Just sign in to the network's website or mobile app with your Fiber TV subscription, and you'll have access to movies, TV shows, sports, and news on your device—both live and on demand. Learn more
Convenient mobile app
With the free Fiber TV mobile app for Android and iOS, you can use your mobile device to control what's playing on any Fiber-connected TV in your home. For example, use the mobile on-screen guide, view and play recordings and On Demand content on the TV you're controlling, and change various settings, including parental controls. In addition, you can use the Fiber TV app to play some live and On Demand shows directly on your mobile device, get recommendations for what to watch, and record shows with a single tap. Learn more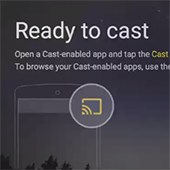 Cast entertainment from your mobile device
Tap into more of your favorite favorite shows, movies, music, and more with Chromecast built-in, a Google technology that's included with your Fiber TV. Cast from thousands of mobile apps like Netflix, YouTube, HBO GO, Pandora, and Google Play Movies, Photos, and Music to send their content straight to your TV screen. It works with your Android or iOS device, Chromebook, or Chrome browser on any computer. Learn more
Advanced DVR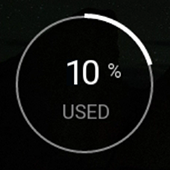 Plenty of storage space
Your Fiber TV storage box comes with a full 2 TB of data storage—enough for up to 300 hours of recorded movies and TV shows in HD quality (or 500 hours of combined SD and HD programming). With so much space, you won't often need delete recordings to make room for new ones. And, if your storage device ever does become full, your DVR can automatically delete older recordings, starting with your oldest watched recordings, so you can rest assured that the latest shows will be recorded.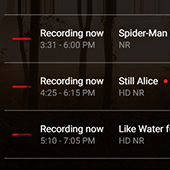 Record and watch up to eight shows at once
Fiber TV provides eight TV tuners for recording and watching live TV at the same time, so everyone in your home can record and watch their favorite shows whenever they like. For example, if you wanted to record five shows airing at the same time, you and members of your household could still watch up to three additional live shows on different televisions in your home.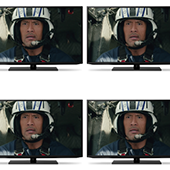 Watch recorded shows on any TV
All the Fiber TV Boxes in your home are connected to the same DVR, so you can enjoy your recorded entertainment from any Fiber-connected TV in your home. You can even start watching a recording in one room, say the living room, and pick up where you left off in another room, such as your bedroom. What's more, you can manage your DVR from any TV to schedule or delete recordings.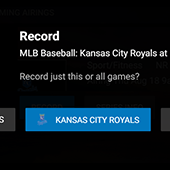 Never miss another game
Love to watch sports? With Fiber TV, you don't have to miss any of the action! Use the team recording feature to automatically record all of the games your favorite team plays that air in your local Fiber market. And because live games can run long, you have to option of adding additional time to the recordings, from 15 minutes to 2 hours, so you can be sure to capture the entire game. Learn more
Follow your favorite stars
Don't miss shows featuring your favorite actor or other personality. Fiber TV's person recording feature can automatically record all content associated with an actor, director, producer—anyone who's listed in a show's cast and crew. For example, if you're a Meryl Streep fan, set up a person recording to capture all her movies available now in the programming guide, and any new movies as they become available later. Learn more
Customize your experience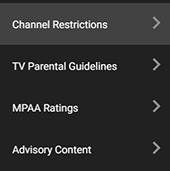 Comprehensive parental controls
Because you can't always be in the same room when your children watch TV, Fiber TV provides extensive parental controls so you can make sure your children don't watch programming that's intended for more mature audiences. Lock channels with your parental lock code, remove channels from the programming guide and search results, and block programming based on parental ratings and advisories. With Fiber TV, it's easy to ensure your kids' television viewing experience is age appropriate. Learn more
Custom program guides
Want to browse your favorite channels even faster? No problem! With Fiber TV, you can easily create customized guides with just the channels you care about. For example, create a guide with your favorite movie channels, create another one with kids programming, and yet another for channels broadcasting a special event, such as they Olympic Games. In just a few easy steps, you and your family can enjoy a truly customized television viewing experience. Learn more
Was this helpful?
How can we improve it?