Google Fiber offers an optional battery backup solution to power your Google Fiber service for up to 24 hours.
Services require electricity to operate. If there is a power outage, you will not be able to make or receive calls, including 911 calls, unless you have battery backup power.
You are solely responsible for obtaining battery backup capabilities, and we will not be liable for the failure of your service during a power outage, including failure due to the lack or nonperformance of battery backup power. We will not provide support for, or be responsible for, ongoing maintenance or management of any battery backup equipment you purchase.
---
Purchase and replacement information, and battery backup expected duration:
If Google Fiber Phone is available in your area, Google Fiber offers an optional battery backup unit you can purchase when you sign up for Google Fiber service or add Google Fiber Phone to your existing service. The battery backup solution that we sell delivers up to 24 hours of backup power to maintain 911 service on your Google Fiber Phone. This battery backup option costs $1,230.
If you choose to purchase the optional battery backup solution offered by Google Fiber, a Google Fiber installation specialist will deliver and set up the unit during your Google Fiber installation appointment.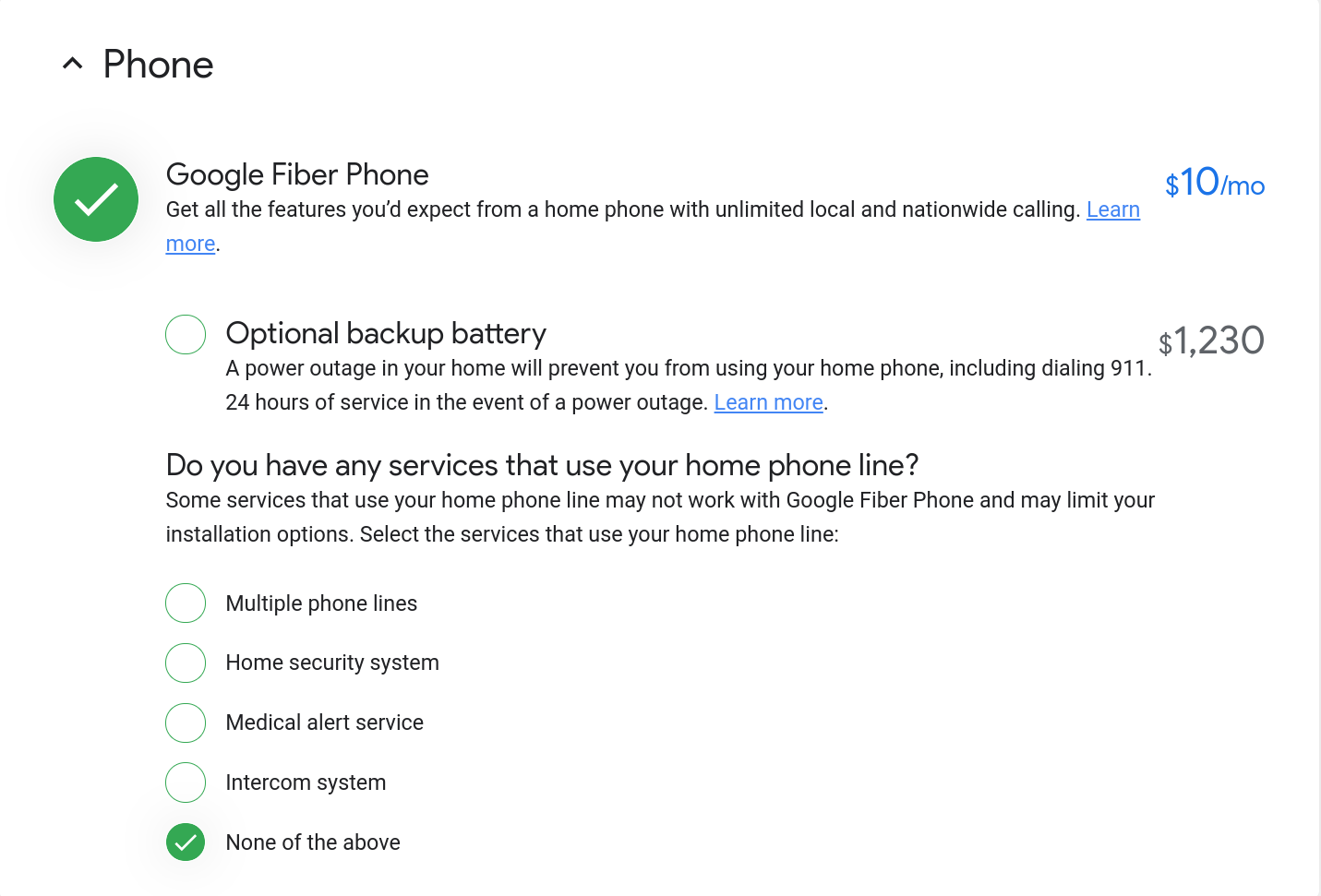 Google Fiber does not offer battery backup units for purchase after you have already ordered Google Fiber Phone service. If you already have Google Fiber Phone and you now wish to purchase battery backup, you may purchase the same units from third party retailers for approximately $1,200 (price subject to variation). More information about these devices can be found on the APC website by following these links:
---
Proper usage and storage conditions:
• This battery backup is intended for indoor use only.
• Do not operate this battery backup in direct sunlight, in contact with fluids, or where there is excessive dust or humidity.
• Be sure the air vents on the battery backup are not blocked. Allow adequate space for proper ventilation.
• The battery typically lasts for three to five years. Environmental factors impact battery life. Elevated ambient temperatures, poor quality AC power, and frequent short duration discharges will shorten battery life.
• Connect the battery backup power cable directly to a wall outlet. Do not use surge protectors or extension cords.
• Google Fiber's 24-hour battery solution consists of three 8-hour battery backups, with a total of 6 components. Each 8-hour battery backup consists of a UPS and an external battery pack. To maintain service for up to 24 hours during an extended (>8 hour) power outage, you must migrate your Fiber Jack, Network Box, and Phone Box device power supplies between the UPS devices at approximately 8 and 16 hours. A brief interruption in phone service will occur while the UPS is swapped out.
---
Subscriber backup power self-testing and -monitoring instructions:
The battery backup will perform a test of the internal battery. This will happen automatically when the battery backup is turned ON.
This equipment generates, uses and can radiate radio frequency energy and, if not installed and used in accordance with the instructions, may cause harmful interference to radio communications. However, there is no guarantee that interference will not occur in a particular installation. If this equipment does cause harmful interference to radio or television reception, which can be determined by turning the equipment off and on, you can try to correct the interference by one or more of the following measures:
• Reorient or relocate the receiving antenna.
• Increase the separation between the equipment and receiver.
• Connect the equipment into an outlet on a circuit different from that to which the receiver is connected.
• Consult the dealer or an experienced radio/TV technician for help.
This device complies with part 15 of the FCC Rules. Operation is subject to the following two conditions: (1) This device may not cause harmful interference, and (2) this device must accept any interference received, including interference that may cause undesired operation.
Making changes or modifications to the device could void the warranty and nullify your authority to operate the device.