This article applies to customers who have the new version of Fiber TV. If you have the older version of our user interface, please view this article on how to
view storage device space usage
.
You can check how much disk space your recordings are currently using on the storage device. You can also view a summary of how your storage device is being used—for example, how much space is being used by recordings marked as Keep Forever.
Generally, you don't have to do anything to
maintain your storage device
. As needed, your device automatically deletes recordings you didn't mark
Keep Forever
to prevent it from becoming full.
To view how much space is used on your storage device:
Press on the remote control, select DVR from the menu, and press ok.

Select Manage at the top of the page and press ok.

On the DVR Manage page, the percentage used indicator shows the approximate percentage of storage space used.
To view view a summary of storage device usage:
Select the percentage used indicator (see above) and press ok on the remote.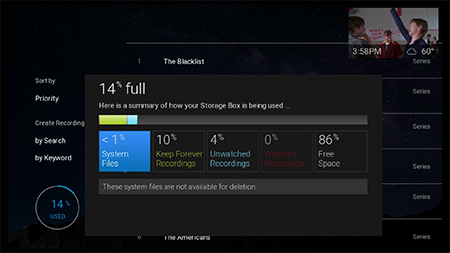 You'll see the following information:
| | |
| --- | --- |
| System Files | Space used for system notifications. |
| Keep Forever Recordings | Space used for recordings marked Keep Forever. Fiber TV doesn't delete these recordings, even if the storage device becomes full. You can change the saving option for individual recordings and change the default saving option for all future recordings. |
| Unwatched Recordings | Space used for recordings that you haven't watched. You can mark shows as watched or unwatched on their More Info page. |
| Watched Recordings | Space used for recordings that you've watched. You can mark shows as watched or unwatched on their More Info page. |