You can upgrade or downgrade to a different Google Fiber service plan of your choosing.
If there are multiple service plans available where you live, you can change your plan before or after Google Fiber is installed in your home.
If you'd like to add phone service to your existing appointment and can't do so within your Google Fiber account, you'll need to contact customer support to update your plan and scheduled appointment.
You can make certain plan changes right in your Fiber app. Here's how:
Here's how to change your plan using your app:
1. Touch Account
.
2. Touch Change plan.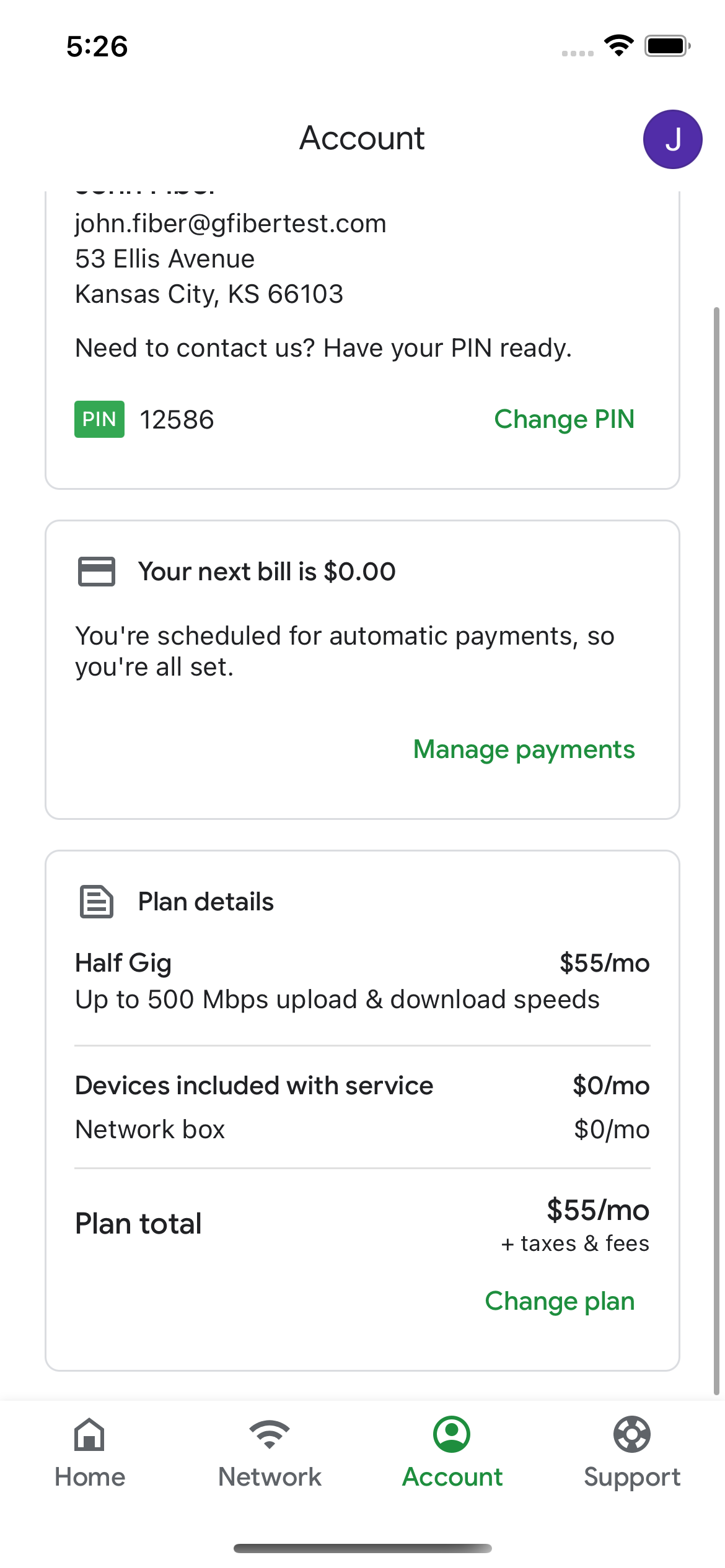 3. Select a new plan.
Plan speed comparison chart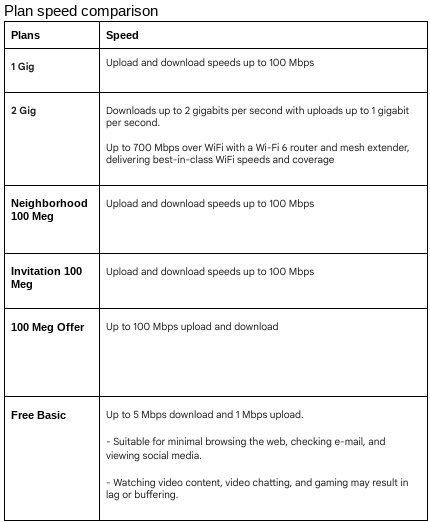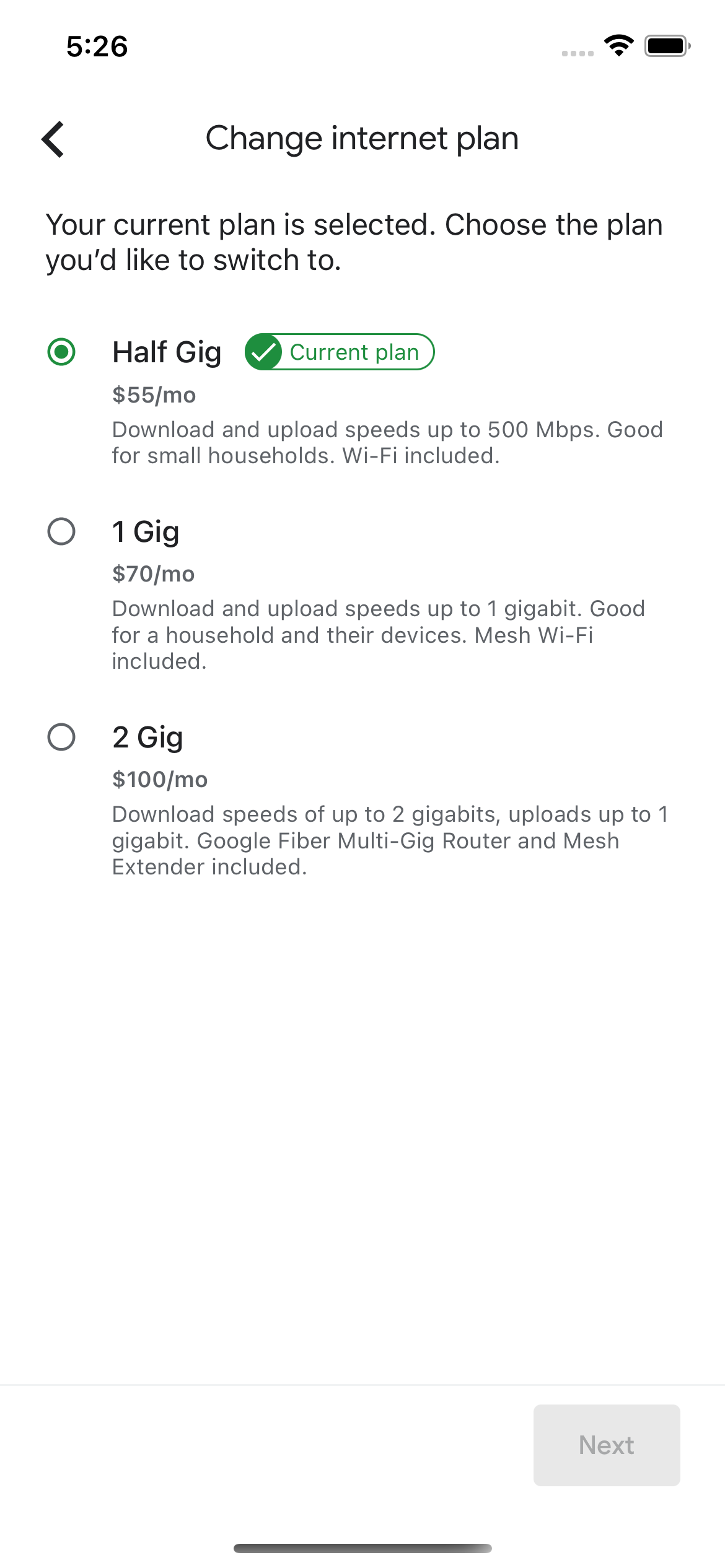 4. Touch Next.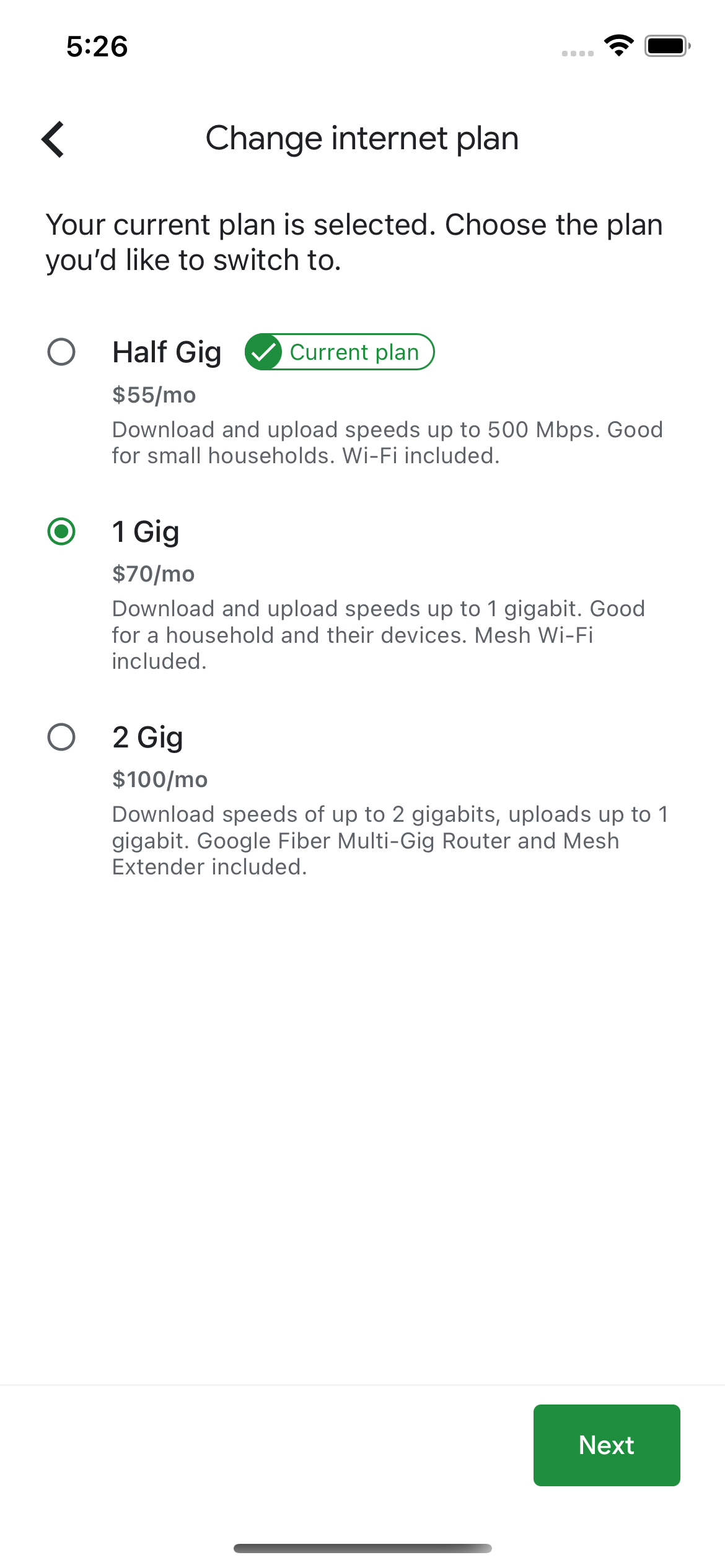 5. Touch continue.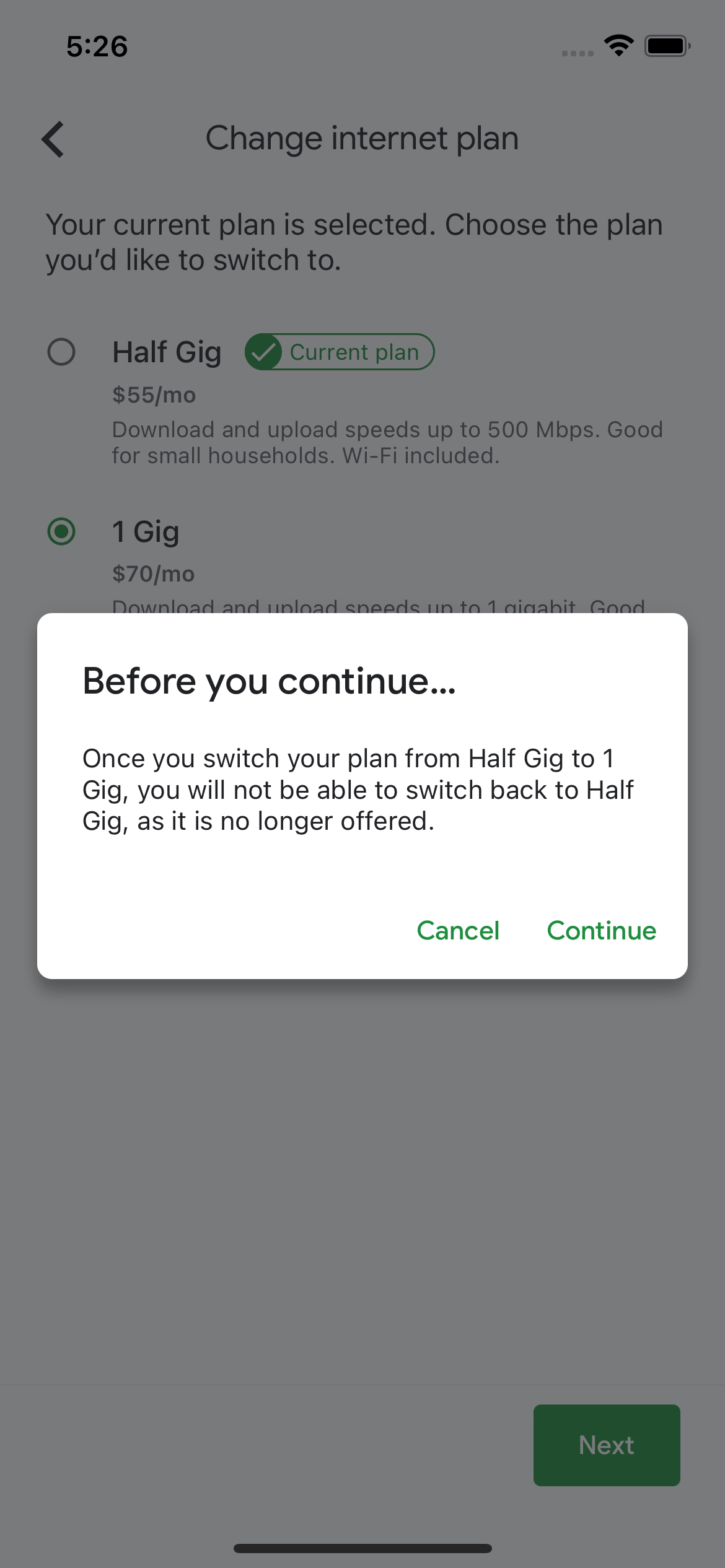 6. Touch Cancel to cancel change or touch Change plan to continue with plan change.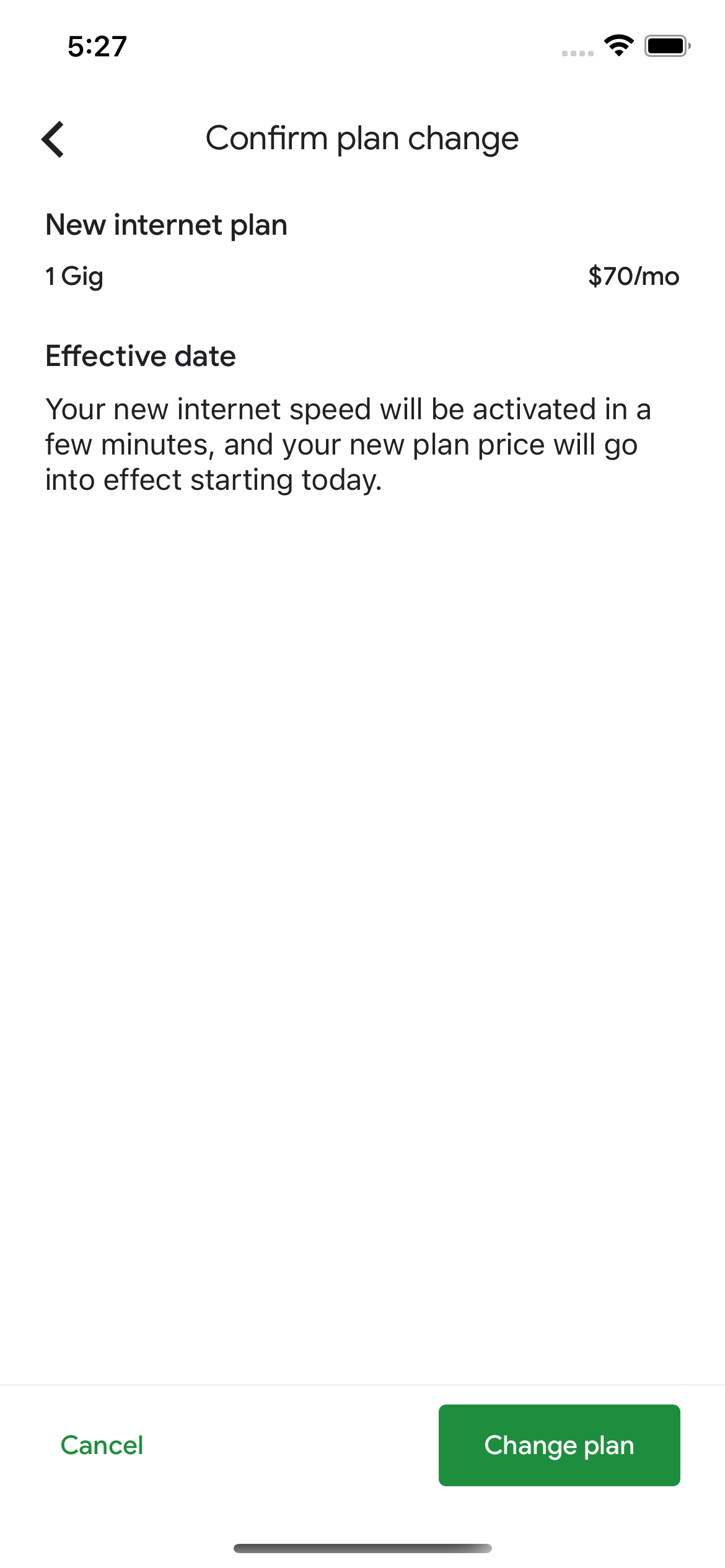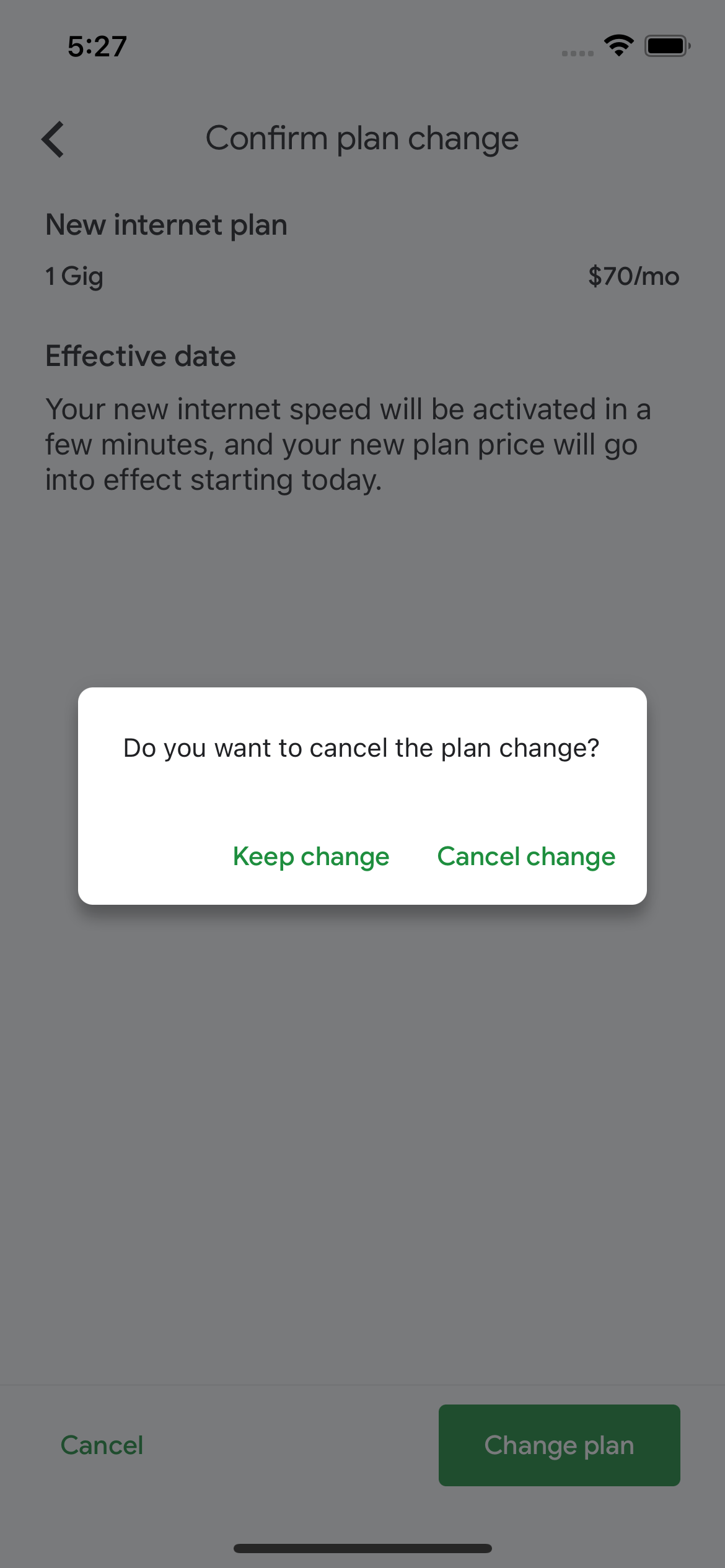 7. Touch Confirm to confirm plan change.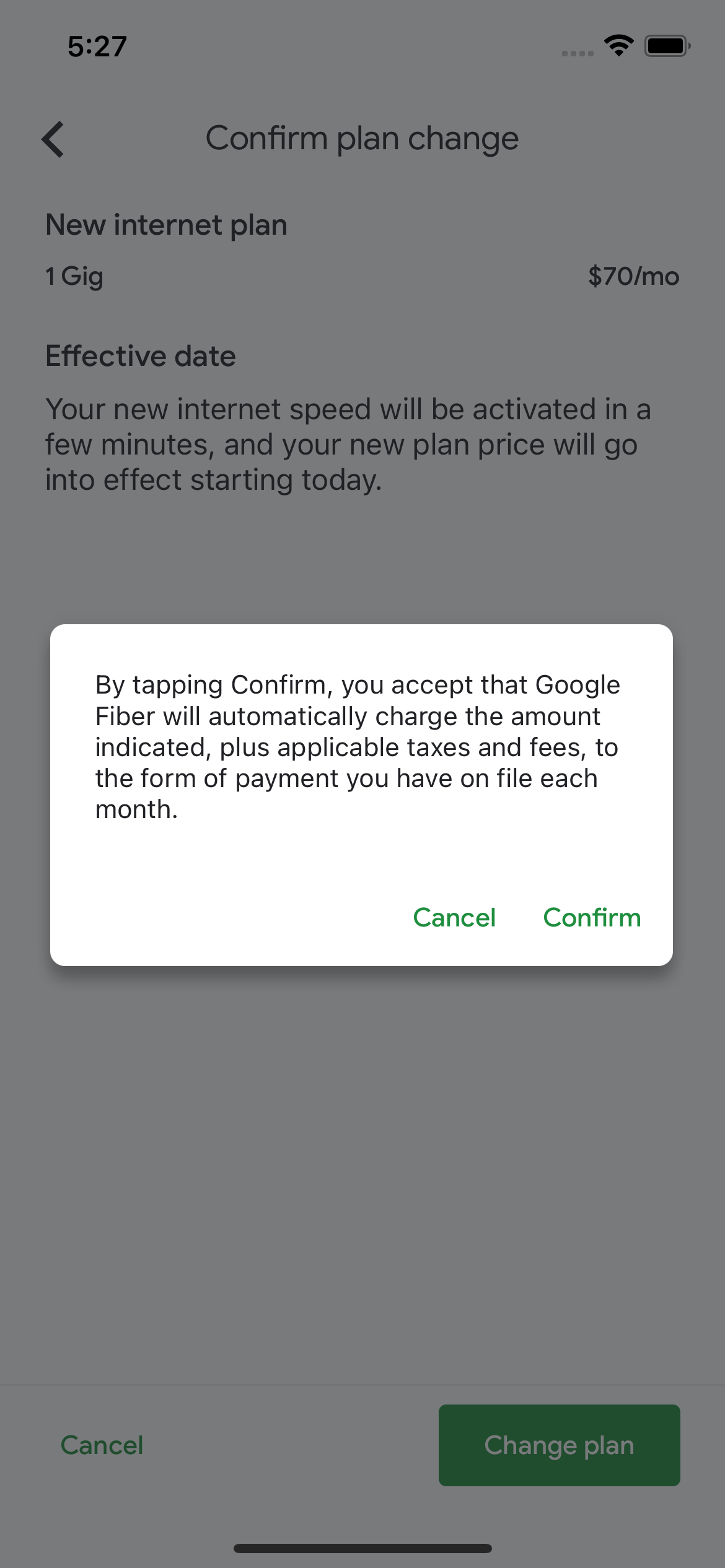 8. Your account should now show the updated plan. Congrats!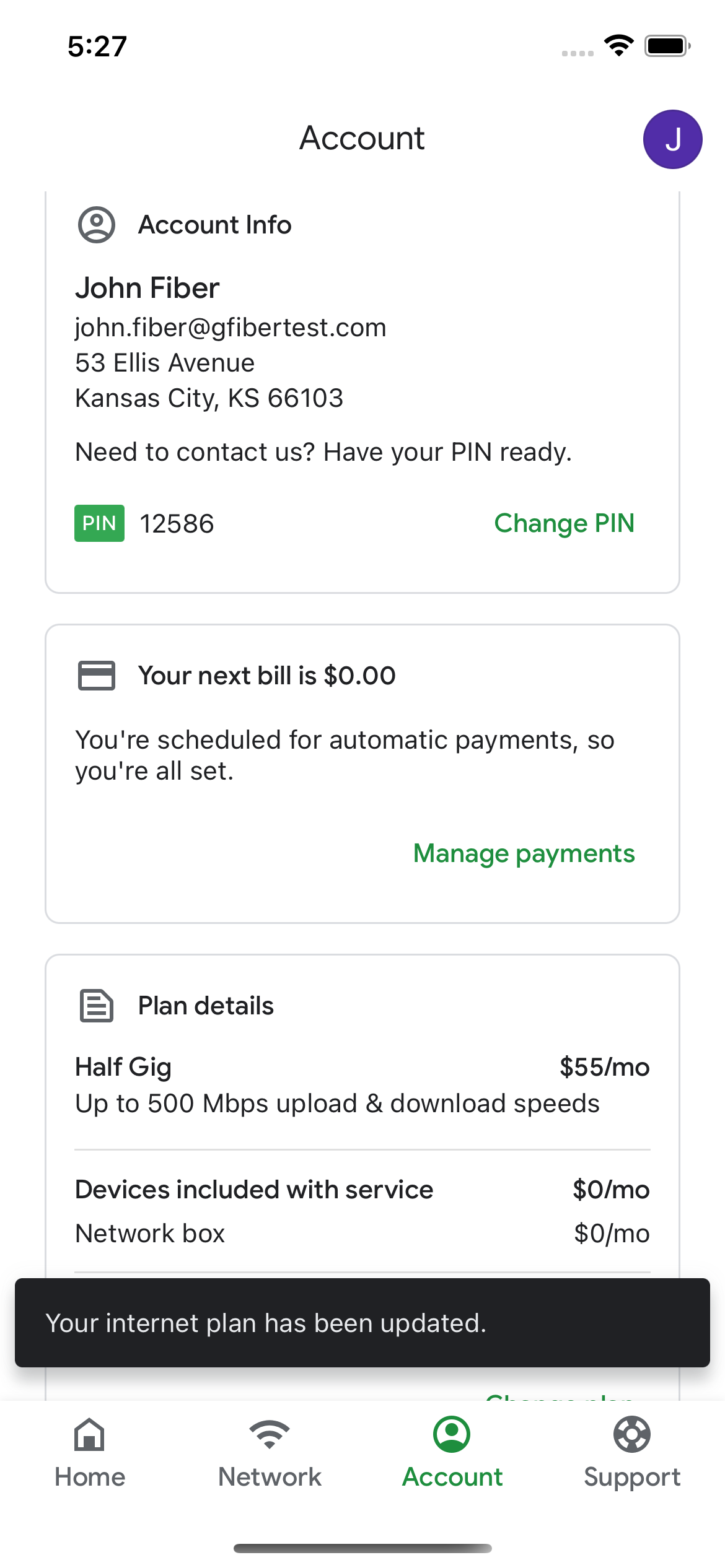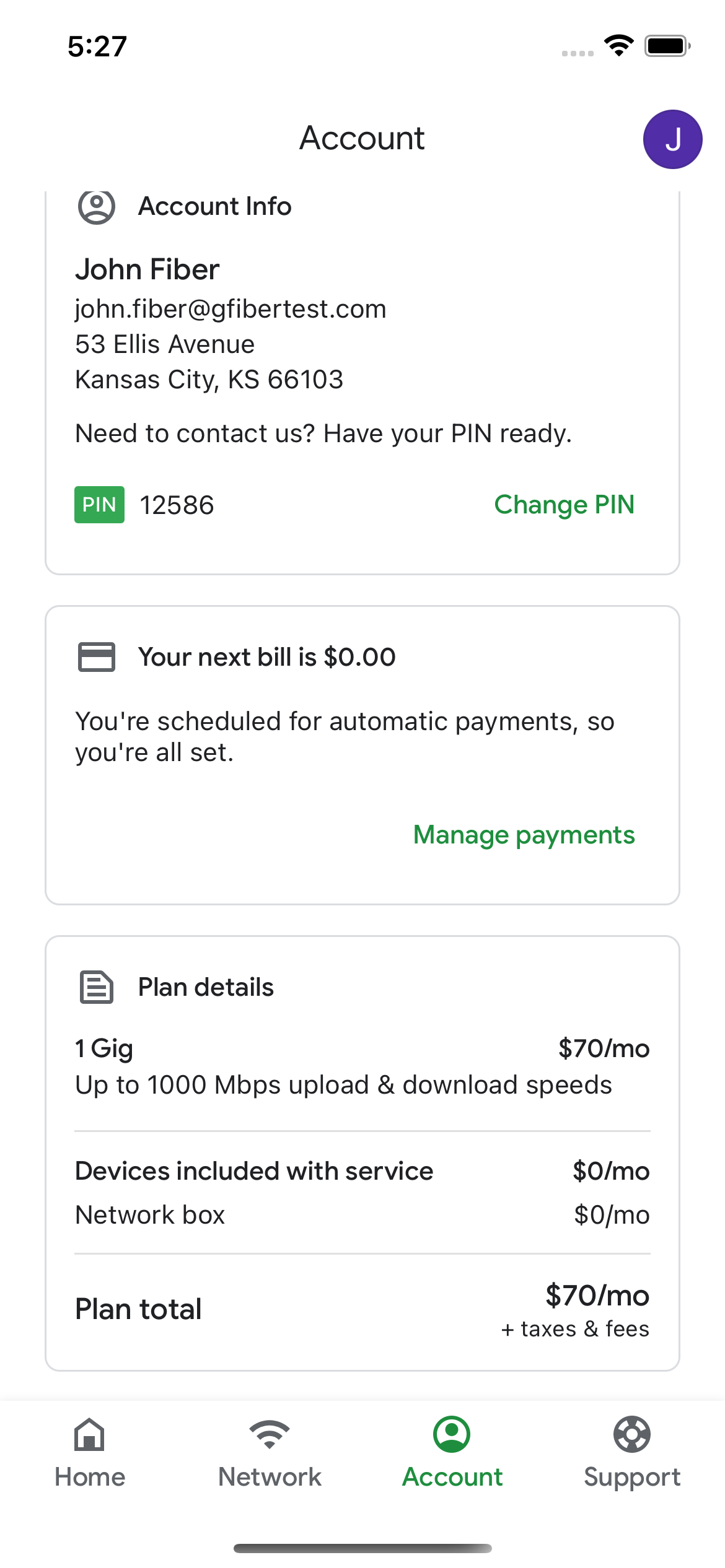 Certain plan changes require you to switch your router, and those (for example, upgrading to 2 Gig, or from the Mini
Network Box
to 1 Gig) cannot be completed through the app. If your plan upgrade is one that requires new equipment, you'll go through the same process but you'll see a screen that requests that you contact us (which you can do directly through the app).
Another option is to change your plan by signing in to your account:
Sign in to your Google Fiber account.

Under Plan details section, select Manage Plan.

Select Change plan.

Select from the available plans listed, and select Continue.

Follow the steps on screen and select Submit to finalize your plan change.
1 TB Google Drive storage removal
If you're a 1 Gig or 1 Gig + TV customer, you'll lose the additional 1 terabyte of Google Drive storage upon cancellation.
Your storage limits will be set back to the free levels of 15 GBs.
Everything in Google Drive, Google Photos, and Gmail will still be accessible, but you won't be able to create or add anything new over the free storage limit.
Nothing stored in Drive will be deleted or removed by Google. For additional information, please view the Purchase, cancellation, & refund policies article on the Google Drive Help Center.
See more info on Google Drive storage as it relates to your Google Fiber plan.
When do plan changes go into effect
All plan changes and channel add-ons will go into effect immediately except those that require installation. 
Plan changes requiring installation, such as adding a TV Box and/or a Phone Box, or a swap, like a Mini Network Box for a Network Box, go into effect only once the installation is complete. You'll receive a confirmation email once a change to your plan is submitted.
Billing information
If your account is suspended, you'll need to take care of the outstanding balance before you can make changes to your plan. You can find more info on how to reinstate suspended service.

If no installation is required, the new price goes into effect on the day following the plan change. If installation is required, the price change will begin the day after installation.

We'll prorate all charges (except for streaming services) and/or refunds to the following month's bill. All new charges are subject to applicable taxes and fees depending on the plan you choose. You can find more specific billing information on when you add or remove TV boxes or packages.
Prorated billing example
You've decided to sign up for 1 Gig at a price of $70/mo + taxes and fees. Your installation date is May 12. Here is an example of what your first month's bill would look like:
| Service | Date | Charge |
| --- | --- | --- |
| Installation | May 12 | $0 |
| Service for prorated period | May 13 - 31 (19 days) | $44.33 |
| Service for first full month | June 1 - 30 | $70 |
| Payment method charged | June 13* | $114.33 + taxes and fees |
*If you reside in California, your bill will be due on the 18th of each month
You can find more specific info on monthly billing.
TV plan change
If you remove Fiber TV service from your plan, you won't be able to add TV back your plan. Fiber TV will still be available, however, if you transfer your account to another person, reconnect service after suspension or delinquency, or move to another Google Fiber-eligible address.
If you've removed a TV box or any other device, you must return your equipment within 60 days from the date of the service change. You can find more info on adding/removing tv boxes from a plan. You won't be charged for any TV boxes you don't return.
Please keep in mind that Fiber TV will be retiring soon. Current Fiber TV customers can sign up for a free TV upgrade
here
.
If you remove a TV package that includes one or more channels from which you have recorded content, the content can no longer be watched when the TV package is removed. Although the content may still appear in your recorded shows, it cannot be watched. You can find more info on how to add/remove TV packages from a plan.
Google Fiber Phone Service
Streaming services
You can add live Streaming TV services to your plan. Streaming TV refers to live and recorded shows, movies, sports, and events that are delivered to you over the open Internet instead of though a traditional cable or satellite TV subscription. You can find more info on
these services
and how to
check availability in your area
.