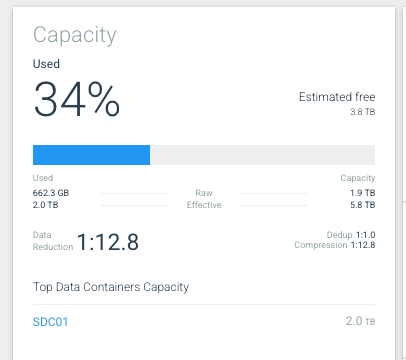 Capacity
Raw Capacity: The total raw aggregated capacity of the system devices (nodes) in the cluster.
Raw Capacity = (Number of Nodes - 1) * Capacity of Each Node

Effective Capacity

: Capacity available for user to write into the cluster.
Utilization
The utilized capacity of the system devices in the cluster
Raw Utilization: Data stored in the disk. Actual data size before taking into consideration data reduction and replication level. This includes snapshots.
Used Raw = Used Effective * 2 [For Replication] / Data Reduction Ratio

Effective Utilization: Data written into the cluster. Predicted data size based on current data reduction factor.
Note
Replication is enabled by default.
Compression is disabled by default but recommended to enable it to improve utilization.
The Used RAW capacity might be higher in case of snapshots.