Insert an image
To insert an image in your document:
Click the Insert drop-down menu from the toolbar and select Image.
Depending on what image you'd like to add to the document, select from the following options:

Upload: Choose an image from your computer and click the Select button.
Take a snapshot: Use your webcam to capture an image to use in your document.
By URL: Type the URL of an image from the Web and click Select.
Google Image Search: Enter a search term to find an image using Google Image Search, and click Search images.
Picasa Web Albums: Choose an image from one of your Picasa Web Albums and click Select.
Stock photos: Search the stock photography archive and select an image.

Once you've found what you were looking for, click the image and the Select button.
To delete the image from the document, click the image itself, and press the Delete key.
You'll be able to add images in any of these file types: .gif (not animated), .jpg, and .png. Images must be less than 2 MB.
Drag images from your computer or the Web
You can drag images from your desktop or a website to your Google document. Simply click the image you'd like to add and drag it to your document. It might take a moment for the image to appear in your document.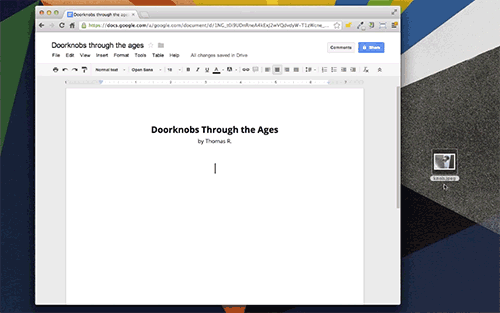 Copying and pasting images from desktop applications
If you copy an image while working in a desktop application, you can paste it right into your document. After you've pasted it, it may take a moment for your image to appear.
You can only drag or paste images that are less than 2MB in size, and that are one of the following file types: .gif, .jpg, and .png.
Image layouts
Image layouts give you control on how text interacts with images or drawings in your documents. There are currently three layouts available:
Wrap: Text flows around the image, only getting as close as allowed by the margins. To set an image's margins, select this layout type and then choose a margin size from the drop-down menu.

Break text: The image is placed by itself — text can appear to the left or the right of it.

In line: The image sits directly on the line of text.

Move and resize images using keyboard shortcuts
Move a fixed-position image:
Press ←, ↑, →, or ↓ to nudge your image by ¼ inch or 1 cm.
Press Shift and hold down an arrow key to move your fixed-position image by 1 point.
Resize your image:
Press Ctrl + < or Ctrl + > to resize the image. (On a Mac, use ⌘ instead of Ctrl.) This resizes the image just as if you'd dragged it by the corner.
Each time you press Ctrl + < or Ctrl + >, you'll increase or decrease the image size by 1/16 inch or 0.25 cm.