Get started with Google Drive
Google Drive on the web
Sign in to drive.google.com to access Google Drive on the web from any computer.
Visit drive.google.com to see all of your Google Docs, Sheets, and Slides, as well as any files and folders you've uploaded and synced. If you're a digital packrat with lots of files, or if you just want to get around your Google Drive on the web more efficiently, here are some views and search methods you might want to know about:
Multiple points-of-view
Control the view from the left navigation:
My Drive: Everything in your Google Drive on the web that you want to sync to other devices where the Google Drive application is installed. Automatically includes everything you've created or uploaded/synced.
Shared with me: Files that others have shared with you.
Starred: Files and folders that you've deemed as star-worthy.
Activity: Everything in your Google Drive in the order it was last updated.
Recently opened: Everything you've recently viewed or worked on in the order it was last updated.
Search methods
Discover things quickly and easily when you search, sort, and preview items: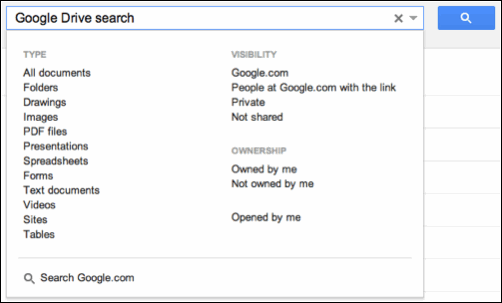 Search by title, type, and more in the search box at the top of your screen.
Sort your Drive by title, date modified, storage used, and more.
Preview a file or folder before you open it by hovering your cursor over the title.
Ready, set, sync! Now that you're comfortable with
Google Drive on the web
, look into Google Drive for your Mac/PC, which lets you sync everything in
My Drive
with your other devices.
Upgrading from Google Docs?
When you upgrade to Google Drive from Google Docs, you'll still be able to share and collaborate or view everything from your Documents List. But now – after you install the Google Drive for your Mac/PC application or mobile app – you can also take advantage of Google Drive on all the devices that you use. In other words, you'll be able to access and sync everything in your online My Drive with the Google Drive folder on your computer.