Protect sheets from being edited
If you want to restrict your collaborators from editing specific sheets of your spreadsheet, you can protect those sheets in your workbook. To protect a sheet, click the sheet's tab at the bottom of your spreadsheet (next to the Add sheet button) and select Protect sheet.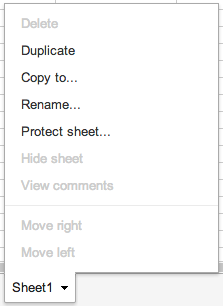 On the window that appears, select one of these options:
Any collaborator can edit the sheet
Only you can edit
You and specific collaborators can edit
Only owners can set editing permissions for individual sheets. Your collaborators and viewers will still be able to view the data on the protected sheet, but depending on the permission you set for each sheet, they won't be able to make any changes or delete a protected sheet.
If a collaborator duplicates the protected sheet, copies the workbook, or uploads a new version, sheet protection will be disabled. Similarly, if a viewer creates a copy of the spreadsheet, the data on the protected sheet can be edited in the copy.
This feature is currently not available in the
new Google Sheets
, but will be coming soon.