This feature is currently in beta. Contact your Google Marketing Platform Support representative for more information.
Flipbook is an out-stream video format for mobile web. Flipbook creatives provide an enticing, interactive, silent highlight clip of your video as viewers scroll through content. Viewers scroll up or down to control the playback speed and direction of the highlight clip, creating a playful DJ scrub interaction. Viewers can then click to play the full video with sound.
Flipbook creatives can serve in either 300 x 250 and 336 x 280 ad placements. Note: The 336 x 280 size was released on October 24, 2019. If you created a Flipbook before this date, it will only serve in the 300 x 250 size. To serve in both sizes, make a new creative.
See an example Flipbook ad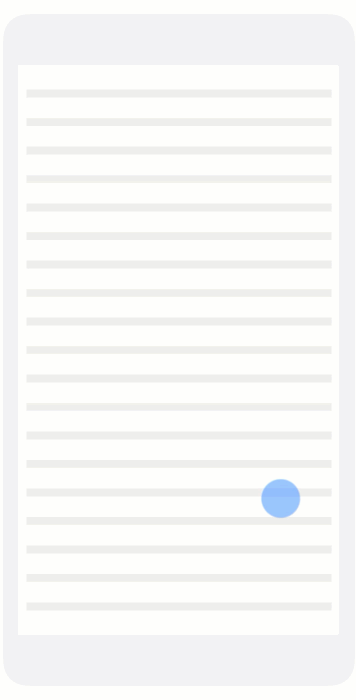 Benefits
Interactive ad experience that draws potential customers to engage with the ad while giving them complete control on how they engage with it
Get access to more video inventory on mobile web
Our research shows that Flipbook has a higher brand recall rate vs. banner and autoplay ads
Assets
Asset
Description
Specs

Logo

Logo or brand image

File types: .jpg, .png
Maximum dimensions: 170 x 65 px
Maximum file size: 20 KB

Video

Full video with sound. You'll select a 1–5 second clip within this video for the interactive preview.

File types: .avi, .m4v, .mov, .mp4, .mpeg, .mpg, .ogv, .webm, .wmv
Aspect ratio: 16:9 only (vertical videos are not supported)
Maximum file size: 1 GB
Maximum length: 60 seconds

Landing page URL
The webpage to send people to when they click your call to action.
Display & Video 360 macros are currently not supported in Flipbook landing page URLs.
Call-to-action text

Call-to-action that leads to your landing page

30 character limit
Color bar

Color bar overlays the bottom edge of the video

Hex color value
Make a Flipbook creative
Before you get started, review the Flipbook guidelines for best practices on choosing the right video and highlight clip.
Open your advertiser, then click Creative Format Gallery in the left menu. (Alternatively, you can click Creatives, then click New Creative from format gallery).
Find Flipbook, then click Create.
Upload a logo image (maximum 170 x 65 pixels, .jpg or .png only).
Upload a video file that's optimized for mobile playback (maximum length 60 seconds, maximum size 1 GB). You must wait for processing to finish before you can move to the next step.
Select a 1–5 second clip from the video you uploaded. For best results, choose a clip that's visually interesting to watch, especially when viewed normally and in reverse, or at different speeds, since the clip responds to the direction and speed of the user's scroll on the page. Learn what type of clip works best

To select a clip, click Edit . (The pencil icon will turn from gray to black when the video is fully processed.)
The selected clip start time and length is highlighted in blue on the progress bar below the clip preview.
To choose a different start time of the clip, you can drag the selected blue clip left or right along the progress bar.
You can also use the left and right arrows to make adjustments to the start and end time of the selected clip (each click of the arrow adds or removes 5 milliseconds).
Scroll up and down to preview your clip. When you're done editing, click Done.

To change the call-to-action text and enter your landing page URL, expand the Text panel.
(Optional) To change the color and opacity of the color bar, expand the Style panel.
To enter a name for the creative, click the Details tab.
(Optional) To add a backup image and backup reporting label, expand the Backup image panel.
(Optional) If the Display & Video 360 advertiser is linked to a Campaign Manager account, add a tracking ad to get reporting in your Campaign Manager advertiser.

Click Serving properties.
Search for an existing Campaign Manager tracking ad. To give it time to sync, you should create a tracking ad in Campaign Manager before making your creative in Display & Video 360.

Tip: To make it easier to find the right tracking ad, assign only 1 tracking ad per ad and placement in Campaign Manager.

Save the creative as a draft or publish it.

If you're ready to assign the creative to line items and start serving it, click Publish. This will save and publish all changes in both Ad Canvas and Details tabs.
If the creative isn't ready to assign to line items yet, click Save draft. This will save everything in both Ad Canvas and Details tabs, but the creative won't be eligible to assign to line items. Learn more about creative drafts
Preview a Flipbook creative
When you're finished building your Flipbook and you're ready to test and share it, open a preview:
To preview from Ad Canvas, hover over the creative, click Preview , then click Share preview . A window appears with a shareable preview link. Click the link to open the preview in a new window with the additional preview options described below. Note: If the creative looks blank, make sure it's published.
To preview from the Creatives list, hover over the creative's name, then click Preview .
Draft Flipbook creatives can only be previewed in Ad Canvas. To get a shareable preview or preview from the Creatives list, publish the creative.
Preview directly on a mobile device
To preview on your phone or tablet, click Preview location.
If you have the Creative Preview app installed on your device, select the device's name under "Push to device" to send a preview to the app.
If you don't have the Creative Preview app installed, click Scan QR code. Pick one of these options:

Scan the QR code on the screen using your smartphone camera app or another QR code scanner app on your device.
Right-click the link below the QR code, then copy it and send it to your mobile device, or share it with someone.
Compatible inventory
Flipbook is currently only eligible on Ad Manager inventory. Flipbook teases users with a scroll-based interaction that is only available for below-the-fold inventory in sizes 300 x 250 and 336 x 280. When you set up targeting for Flipbook creatives, target smartphone inventory that's below-the-fold. Because Flipbook requires scroll events, Ad Manager publishers must use Google Publisher Tags to be eligible to serve.
During the beta period, use the following settings to properly target Flipbook-eligible inventory:
Viewability: Active view - All impressions (greatest reach)
Position: Below the fold
Reporting
All video metrics and dimensions such as quartiles, completions, and so on work the same for Flipbook as they do for in-stream video campaigns. The difference is that these events start only after the viewer taps on the ad and the full video starts playing.
Forecasting data is not available for Flipbook during the beta period.
How to serve Flipbook creatives
If you're a publisher or exchange who's looking to serve Flipbook creatives, the only requirement is that you have below-the-fold inventory that uses Google Publisher Tags, which allows the creative to respond to scroll events.