Students should join your class via the process below.
Students visit g.co/csfirst/go.
Students click I'm a student.
Students use the "New students" side of the screen and enter the unique class code for the class (found on the teacher's Classes page), and after a series of prompts, a username and password is generated for the student.

If a student already has a CS First account from a previous class, they can select the "No, I already have an account" option.

Students should then Sign In using their CS First username and password.
​A few things to note about CS First student accounts:
Students should use these accounts to log in to both CS​ First and Scratch.
It's a good idea to document your students and their account info either on the class roster that's included with a CS First Kit, and/or using your own tracking method (i.e., a spreadsheet). You could also encourage students to write down their username and password in a secure location, but also somewhere that they won't lose it. There's space for this on the back of the student certificates.
Usernames and passwords are anonymous and randomly generated by Scratch.
Students can re-use their CS First accounts for future classes and activities.
Once students have logged in using your class code and their CS First username and password, they will appear on the People page on your class dashboard.
Hope this helps!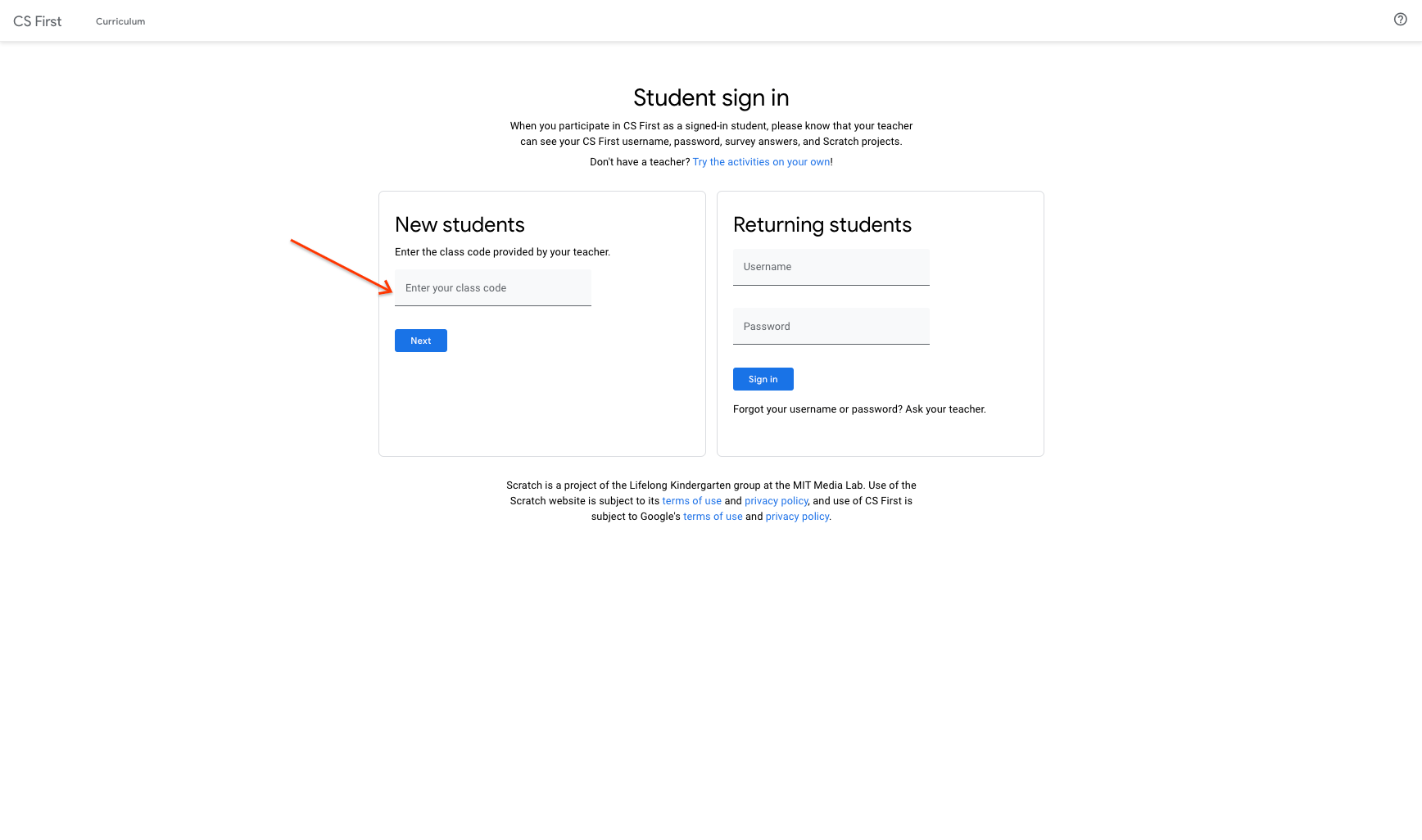 This question is locked and replying has been disabled.
This will remove the reply from the Answers section.
Notifications are off
Your notifications are currently off and you won't receive subscription updates. To turn them on, go to Notifications preferences on your Profile page.
Report abuse
Google takes abuse of its services very seriously. We're committed to dealing with such abuse according to the laws in your country of residence. When you submit a report, we'll investigate it and take the appropriate action. We'll get back to you only if we require additional details or have more information to share.
Go to the Legal Help page to request content changes for legal reasons.