Inside the box, you'll find the Chromecast Audio, a stereo 3.5 mm analog audio cable, a USB power cable, and a power supply. It's important to only use the cables that come in the Chromecast Audio box; other cables may not work.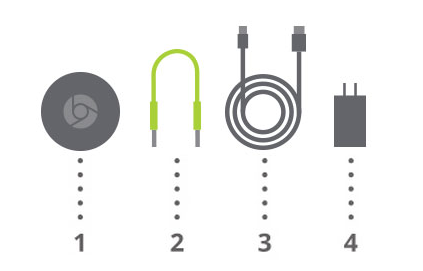 Chromecast Audio: Plugs into any speaker system that has an aux-in or line-in port using the included audio cable (#2). Chromecast Audio uses your existing Wi-Fi network to stream audio from the internet for playback on your existing speaker system. Chromecast Audio is controlled from devices on the same Wi-Fi network, such as mobile devices, tablets, or computers, and is powered using the USB cable and provided power supply (#3, #4).
Audio cable: Connects Chromecast Audio to speaker systems that support aux-in and line-in connections via a standard 3.5 mm port. Optionally, speaker systems with RCA inputs and optical digital inputs are supported, but required cables are sold separately.
USB power cable: Provides power to your Chromecast Audio. One end plugs into your Chromecast Audio and the other end plugs into the power supply (#4).
Power supply: Used with the USB power cable (#3) to power your Chromecast Audio (#1)
For a video demonstration, check out this YouTube video.
If you're having trouble, you'll likely find a solution with our Chromecast Audio troubleshooting tips.