Get Started with Chromecast
Plug In Chromecast
Remember, to set up your Chromecast you'll need:
A display device with an HDMI input, for example, a high-definition television (HDTV)
Access to an available power outlet or an available (non-service) USB port on your HDMI-enabled display
Access to a secure wireless network (make sure you have the wireless network password handy)
A Mac, Windows or Chromebook computer, or an Android or iOS smartphone or tablet.
You can connect Chromecast to your TV in a few simple steps:
A: Plug one end of the USB power cable into your Chromecast and the other end of the cable into the power supply and then into a nearby power outlet. We recommend that you use the USB power cable and power adapter that is included in the box for optimal performance.


B: Plug your Chromecast into any open HDMI input on your TV.


C: If you do not have access to an open outlet, you can also power your Chromecast by plugging the USB power cord directly into an open USB port* on your TV.


It's important to use the cords and adapters that come inside the Chromecast box. If you're having trouble fitting Chromecast into your TV's HDMI port, or if you need to improve your Wi-Fi reception, try using the HDMI extender that came in the Chromecast box.
Once your Chromecast is plugged in, you should see the Chromecast home screen. If you do not see the Chromecast home screen on your TV after setting up Chromecast, use the Input or Source button on your TV's remote control to change the input until you see the Chromecast home screen.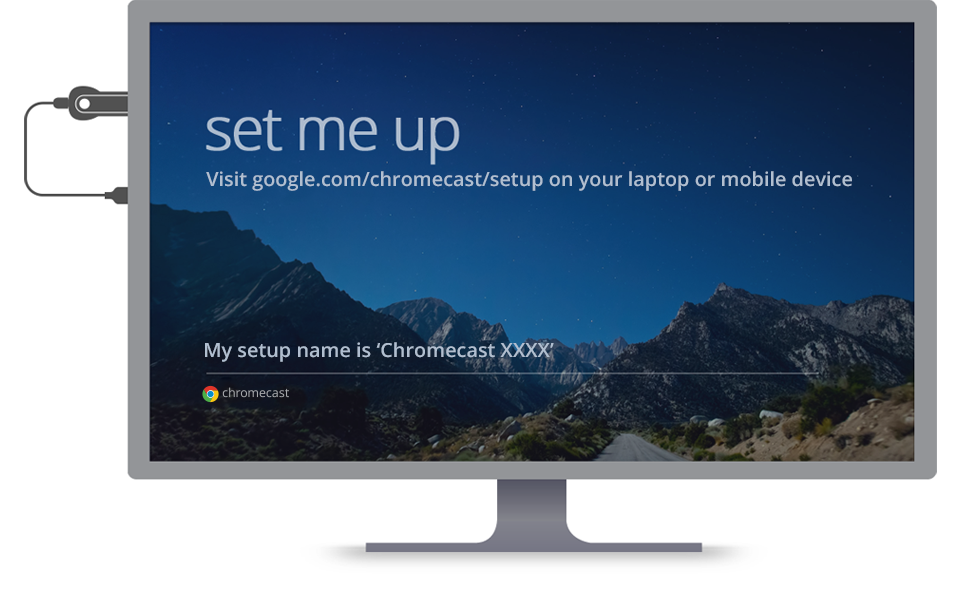 *Do not plug the USB cable into a port labeled 'Service'; it must be labeled 'USB' or display the USB symbol.