Windows 10 64bit
Chrome 74.0.3729.169
In Windows event log (Security log), repeatedly getting Event ID 4625. The information for this seems to suggest that Chrome is trying to logon to my Windows account (which is a local account, not a Microsoft account) - and failing due to unknown user name or bad password.
See attached details from Event Viewer.
This raises two issues:
1. Most importantly, why is Chrome instigating a logon to my local account (especially when it is already running in that local account)?
2. Why is it failing anyhow?
I thought it might be failing due to the password being null (I did not enter a password when installing Windows 10). So I created a password and rebooted. Then the status changes from 0XC000006E (Unknown user name or bad password) to 0XC000006D (Bad username or authentication information) with a sub-status of 0xC000006A (User logon with misspelled or bad password).

Anyone got any ideas?
I'd add that everything appears to work OK regardless.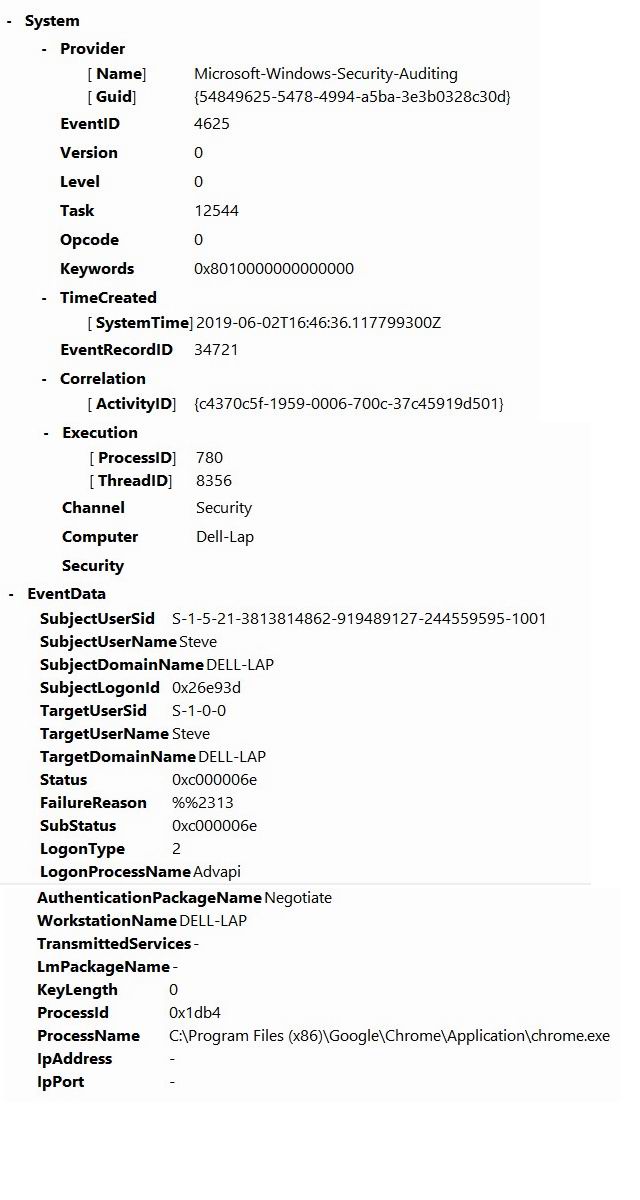 This question is locked and replying has been disabled.
This will remove the reply from the Answers section.
Notifications are off
Your notifications are currently off and you won't receive subscription updates. To turn them on, go to Notifications preferences on your Profile page.
Report abuse
Google takes abuse of its services very seriously. We're committed to dealing with such abuse according to the laws in your country of residence. When you submit a report, we'll investigate it and take the appropriate action. We'll get back to you only if we require additional details or have more information to share.
Go to the Legal Help page to request content changes for legal reasons.