Chatgeschiedenis
Chatgeschiedenis werkt alleen voor gebruikers met een Gmail-gebruikersnaam.
Je chatberichten uit Google Chat en gedownloade clientchats worden opgeslagen in je Gmail-account, zodat je ze later gemakkelijk kunt terugvinden.
Je chatgeschiedenis openen:
Klik op het label 'Chats' in je Gmail-account.
Als je het label 'Chats' niet in je postvak IN ziet staan, ga je naar 'Instellingen' om het zichtbaar te maken. Klik in 'Instellingen' op 'Labels' en kies 'weergeven' naast 'Chats'. Chat worden nu weergegeven in je postvak IN.
Er wordt een lijst van chats weergegeven, op dezelfde manier waarop conversaties in het postvak IN worden weergegeven. Je kunt chats op dezelfde manier als Gmail-berichten voorzien van een label of een ster, of ze in de Prullenbak plaatsen.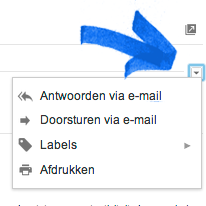 Wanneer je de chatgeschiedenis opent, kun je de chat beantwoorden en doorsturen via je e-mail, labels toepassen of afdrukken. Ga naar de rechterbovenhoek van de pagina met chatgeschiedenis en klik op de dropdown-pijl
om de beschikbare opties weer te geven. Selecteer vervolgens de gewenste optie.
Zoeken in chats:
Selecteer de zoekbalk boven aan Gmail.
Typ de gewenste zoekterm(en). Als je bijvoorbeeld wilt zoeken naar de naam van dat Italiaanse restaurant dat je vriend in een chat heeft genoemd, typ je 'Italiaans restaurant'.
Wanneer je zoekt, worden overeenkomende chatconversaties weergegeven, samen met overeenkomende e-mailconversaties. Alle chats zijn voorzien van het label 'Chats' en gemarkeerd met het chatpictogram, zodat je ze gemakkelijk kunt onderscheiden van e-mails.
Bij de instellingen voor de chatgeschiedenis van Google Chat geldt dat je afzonderlijke chats kunt omzetten naar de vertrouwelijke modus. Je hebt dan niet meer de mogelijkheid om de chatgeschiedenis voor al je chats uit te schakelen. Meer informatie over het gebruik van de vertrouwelijke modus.
Chats uitsluiten van Gmail-filters
Als je chats wilt uitsluiten van filters in Gmail, klik je op de dropdown-pijl voor de zoekopties rechts van het zoekvak en vink je het selectievakje aan naast 'Chats niet opnemen'.
Je kunt dit ook bereiken door op het tandwielpictogram
voor 'Instellingen' te klikken en 'Filters' te kiezen. Selecteer vervolgens 'bewerken' naast het filter dat je wilt bewerken.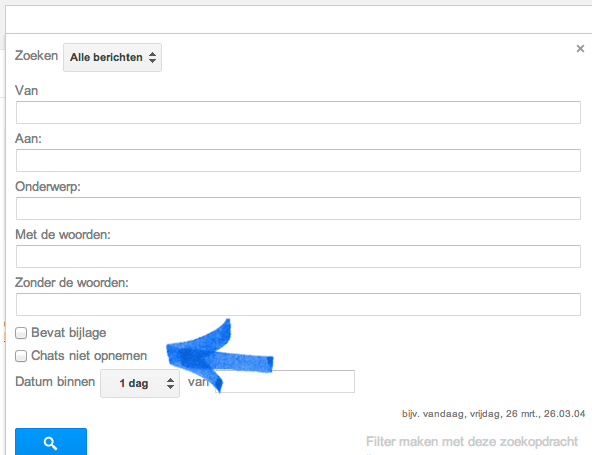 Megan is Google Chat-expert en auteur van deze Help-pagina. Help haar dit artikel te verbeteren door hieronder feedback achter te laten.
Was dit artikel nuttig?
Hoe kunnen we dit verbeteren?