I hear it over and over...There are fake reviews on my Google listing but nothing can be done. It has happened to me as well. I own Protege Pools in Az and we are very small but strive for great reviews. Our company has the very best customer relationships and we work so hard to keep a great reputation! Well, I received a fake / bad review on my Google listing and after this review was posted, our potential customer average took a bit of a huge 90% drop! No new customers! I can prove that this is a fake review. It is either a competitor or they listed it under the wrong company. I had Google call me back, I reported it and flagged it, I tried to communicate with the man who wrote it...And NOTHING ALWAYS NOTHING! Google is a great way to get new customers and share information about our company but it can hurt as much as it helps. Does anyone know anything that can be done. I never had this man as a custom. Every customer is in our QB system and we are so small that I know all our customers. Plus, he is located far outside of our service area. He also started in his review that we took advance payment for the job he says we did. We would never take money in advance. I have 4 employees and they are my brothers and my husband. All of know that we never did service for this man (Mark Jones) . Even his name seems fake . Can anyone lead me in the right direction? What can I do? Please help.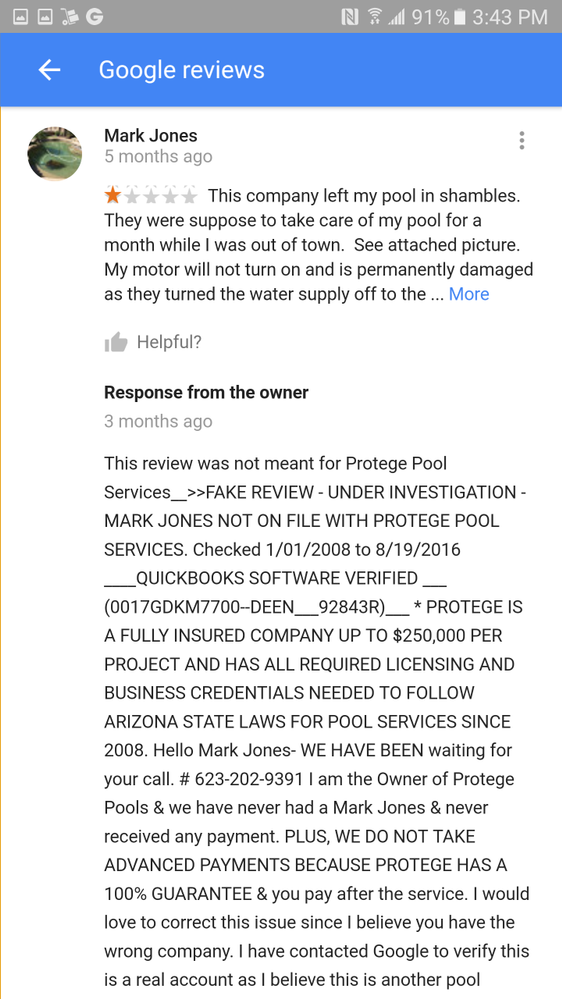 This question is locked and replying has been disabled.
This will remove the reply from the Answers section.
Notifications are off
Your notifications are currently off and you won't receive subscription updates. To turn them on, go to Notifications preferences on your Profile page.
Report abuse
Google takes abuse of its services very seriously. We're committed to dealing with such abuse according to the laws in your country of residence. When you submit a report, we'll investigate it and take the appropriate action. We'll get back to you only if we require additional details or have more information to share.
Go to the Legal Help page to request content changes for legal reasons.