Last Fri my business received 2 fake reviews minutes apart. One account shows name as "Jersey Nicole" obviously breaking Google's impersonation policy as this persons real name is Amber. The 2nd reviewer states its this "Jersey Nicole" s husband. First of all I am a hair extension salon I DON'T do men's hair. 2nd of all these 2 posts are blatantly posted by my competitor as the review states the other salons name and a ton of irrelevant information about this competitor salon. There was never any interaction with myself or either one of these fake people! I have security tapes covering all entrance points of my building, i have the business phone and text records as well as email records to prove I HAVE NEVER HAD CONTACT WITH EITHER OF THESE PEOPLE!
This is the same competitor that Google allowed to run an adwords campaign for AN ENTIRE YEAR letting them use my TRADEMARKED BUSINESS NAME in the head title of their ad! This competitor has non stop left me fake reviews, pay IT people to attack my website and has used MY business and personal name for the last 4 years. This isn't right and its not ok for this to take time out of MY life and MY clients life. These reviews are so obvious its absolutely rediculous that even after escalating them a week later they are still up and causing financial harm to my business I've spent 18 years building! See screenshot below for Yourself if you want to see what Google lets your competitors do to your small business!
My business:
Extensions of Yourself
18838 Stone Oak Pkwy
San Antonio TX 78258
Competitor is the one listed in the add.
I have fixed (free of charge) the hair of 13 women that fell for this deceptive ad because had they not been looking specifically for me, they would have never had to have gone through any of this and would have never met her! EVENTHOUGH this was deceptively done by this competitor salon these women were left with PERMANENT HAIR LOSS caused by them! 13 women left with bald spots permanently..all done by this salon HOW IS THIS RIGHT?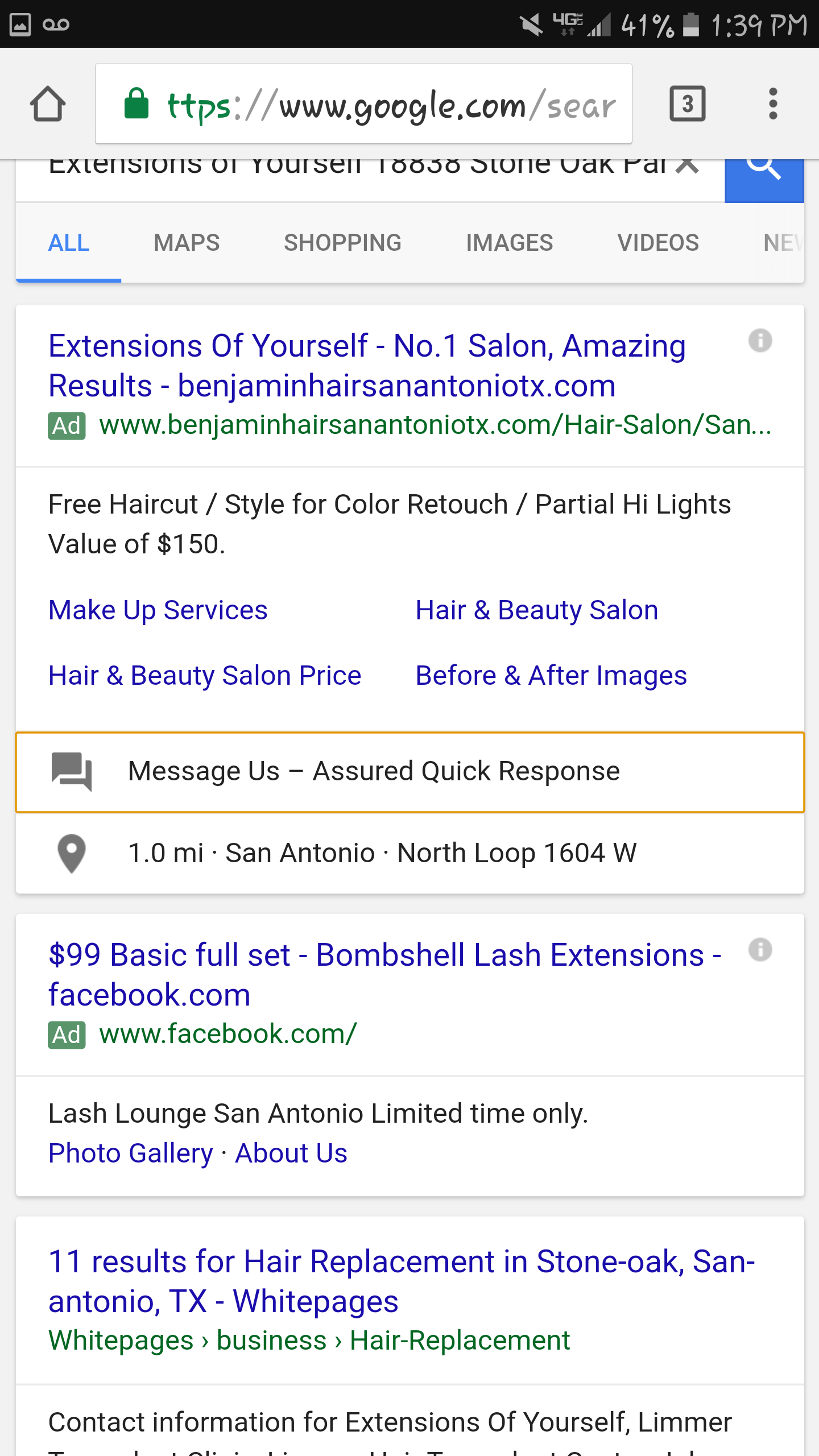 This question is locked and replying has been disabled.
This will remove the reply from the Answers section.
Notifications are off
Your notifications are currently off and you won't receive subscription updates. To turn them on, go to Notifications preferences on your Profile page.
Report abuse
Google takes abuse of its services very seriously. We're committed to dealing with such abuse according to the laws in your country of residence. When you submit a report, we'll investigate it and take the appropriate action. We'll get back to you only if we require additional details or have more information to share.
Go to the Legal Help page to request content changes for legal reasons.