About Email Notifications on Blogger
Subscribing to Blogger email notifications is one of the best ways of staying in touch with the latest scoop on all things Blogger-related. You'll be the first to hear about cool new features, product news, and other updates direct from the team—all stuff that is meant to excite you both as a publisher and as part of the larger Blogger community.
Our email notification service is entirely opt-in, and we'll keep your information completely confidential and out of the clutches of any and all third parties. You may also end your subscription at any time without any fuss.
You might have already checked the box to receive email notifications from us when you first signed up for Blogger. If you haven't, simply click the gear icon on the top-right of your Blogger Dashboard, and select Edit User Settings.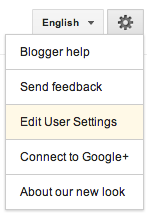 After clicking the link, you will be taken to a page where you can edit your settings. To enable email notifications, simply mark the checkbox next to Feature Announcements and then hit Save: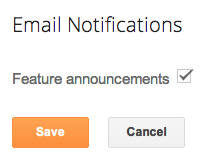 And that's it!
When this box is checked, you'll be sure to hear the latest from the team on how to get the most out of your blog. If at any time you want to stop receiving notifications from Blogger, simply uncheck the Feature Announcements box and you won't hear another word from us.