The AppSheet editor consists of three main areas: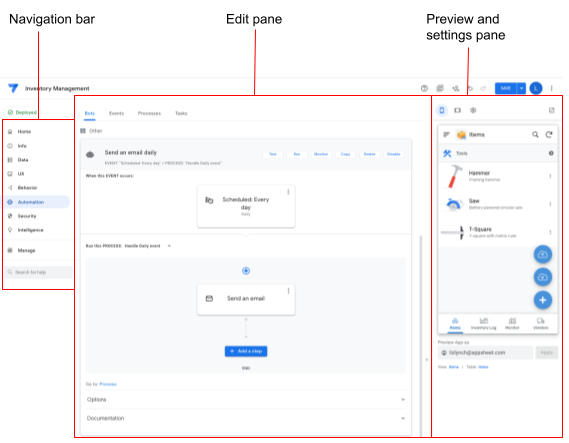 Navigation bar
Implement the app's functionality, including its data source connections and schema, the app design and user experience (UX), and other behaviors. The following table summarizes the sections of the editor that are accessible from the navigation bar.
| | |
| --- | --- |
| Section | Description |
| Info | Manage technical details of your app. |
| Data | Define how AppSheet is connected to and manages your data. |
| UX | Create and customize views and the look and feel of your app. |
| Behavior | Create buttons for navigating in the app, initiating external links, and triggering data workflows. |
| Automation | Define automated processes to run in response to certain events. |
| Security | Define security features for your app, such as requiring users to sign in. |
| Intelligence | Incorporate machine learning into your app, such as sentiment analysis, predictive analytics, and optical character recognition. |
| Manage | Manage app versions, monitor usage and performance, and more. |
Main pane
The main pane is where you customize your app based on the section selected in the navigation bar. For example, in the Data section, you can customize data in the tables on which your app is based.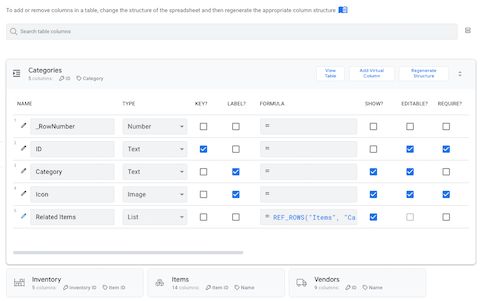 App preview and settings pane
In the app preview and settings pane, you can view and interact with your live app. Click the mobile, tablet, or desktop icon to preview the live app in the selected format.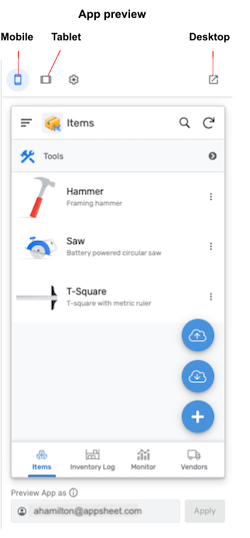 When you select an automation component within a bot in the main pane, for a subset of components you can click Settings (gear icon) to configure related settings.