The map view is a great way to display locations within your app. Depending on your needs you can display location data, drop pins, or provide directions with your app. These location data points can come from addresses, XY (coordinates of a point) or LatLong (GPS) information. Finally, you can use either Google maps to display your mapped locations (Addresses and LatLong) or a custom image such as the interior map of a manufacturing plant to map XY points.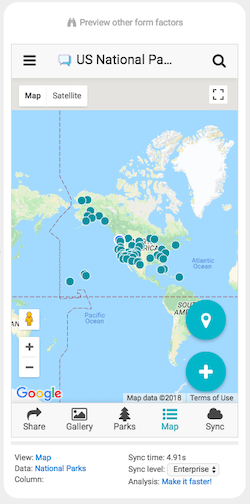 Get started using map views
Get started using map views:
Create a map view
To create a map view:
Create a view, as described in Create a view.
Select map as the View type when configuring the view.
Important note
AppSheet Maps are also capable of using what's called KML (Keyhole Markup Language). This is a file format used to display geographic data, most commonly on platforms like Google Earth or Google Maps, that allows for embedding and displaying location points, borders and shapes with different styles. To learn more about KML, review this community post.