There are four tabs on the Info page that can help you build, monitor, and troubleshoot your app: Dashboard, Properties, Errors, and Spec.
Dashboard
The Dashboard tab enables you to edit the logo, name, and description of your app. It also provides quick access to recent user activity, the app performance profile including app sync time, earlier versions of the app, and the app subscription plan requirements.
When you select Edit Logo, you're redirected to the UX > Brand tab. You can make changes to your color theme, app logo, and more. If you have an image file on your computer that you want to use as the app logo, convert it to a URL first so that the editor can recognize it. For more information, see Style: The Essentials.
If you see a notification in the Dashboard that your app has errors or warnings, you can click on the notification to navigate to the Errors tab.
Properties
The Properties tab provides information about the app that you can edit; for example, the name of the app, version number, description, category, function, and more. Filling out the properties helps your team, users, and other stakeholders understand what the app can be used for.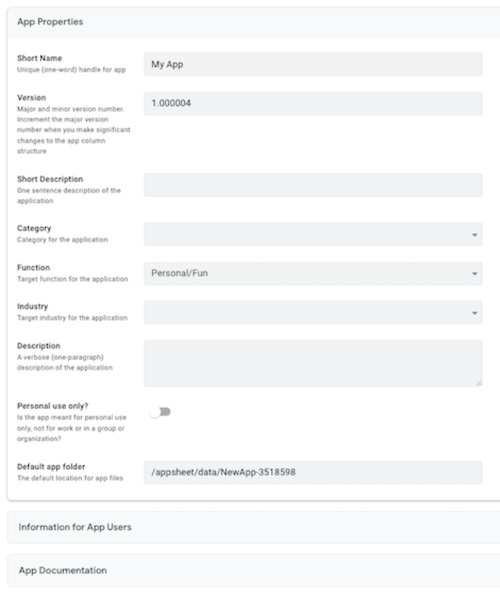 Errors
The Errors tab shows any errors and warnings that are present in your app, including an explanation of the type of error or warning and a suggestion for how to resolve the issue. If you have difficulties fixing your errors and warnings, there are several troubleshooting strategies you can try. You can also talk to the AppSheet team and other app creators in the AppSheet Community.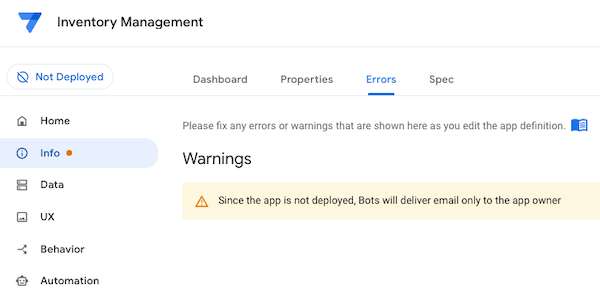 Spec

The Spec tab shows you how your app works under the hood. While there isn't a whole lot to do in this tab except for moving the shapes around, it's pretty cool to see how the different parts and functions of your app are related. See Create and view apps using Spec.