Change screen & brightness settings
You can set your watch's screen to:
Stay on all the time, showing the time even when you're not using the watch.
Turn off when you're not using or looking at the watch.
Stay off completely when you're in a place like a movie theater.
You can also adjust the screen's brightness, boost it temporarily, and show or hide card previews.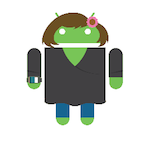 Andrea is an Android expert and author of this help page. Help her improve this article by leaving feedback below.
Was this article helpful?
How can we improve it?