Update your Nexus Player
Your Nexus Player will stay up to date if you leave your device on overnight. It'll update itself automatically when a new version of the software becomes available. You can also check for and install updates manually.
How to check for and install updates
From Android TV's Home screen, scroll down until you reach Settings .
Select Settings .
Under "Device," select About .
Select System update.
Select Check now. If an update is available, follow the onscreen instructions to download and install.
Your device will reset after the update is finished.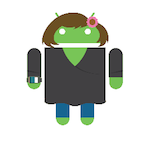 Andrea is an Android expert and author of this help page. Help her improve this article by leaving feedback below.
Was this article helpful?
How can we improve it?