See what the Android Auto screen looks like and where to find everything.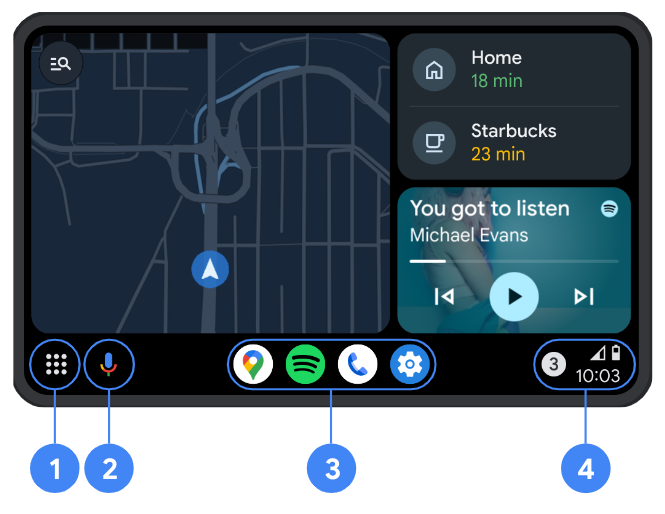 App launcher: To access other apps, tap on the app launcher , where you will find the familiar app icons.

Microphone: One way to talk to Google is to tap the microphone . Another way you can talk to Google is to say "Hey Google." Some cars also have a voice command button on the steering wheel that you can press and hold to talk to Google. Check your user guide or consult your car's manufacturer for more information.

Recent apps: This area will show your most recently used navigation, media, and communication apps plus one more app.

Status area: This area shows the time, signal strength, and battery status. The circle with a number will appear and show how many missed calls, messages, or alerts are in the notification center. Tap the circle to access the notification center.
App launcher
Here's what your app launcher looks like.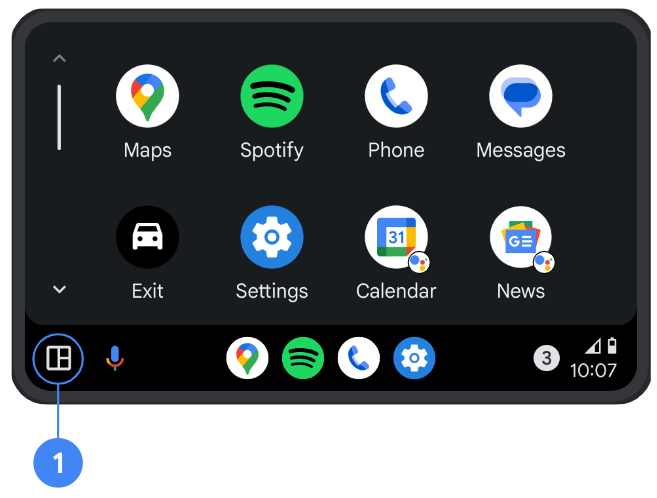 You'll see several of the icons have the Google Assistant badge. When you tap the icon, your Assistant will perform the task, such as: give you the weather report, read you the news, or set a reminder for you.
When you are in the app launcher, this location will show the dashboard icon , which will allow you to return to your Android Auto dashboard.
To see your media controls and navigation directions while you use a full-screen app, enable
Show quick controls for apps
in Android Auto settings
on your phone.