Games reporting provides game-specific metrics that help you measure customer behavior across the user funnel and develop metric-driven insights about your mobile gaming apps.
Access Games reporting
Games reporting is available in Google Analytics 4 properties that have either:
At least one app stream associated with a games app in the Google Play Store or Apple App Store
Property Settings > Industry category set to Games
To return to the default Google Analytics 4 reports, update your app category or property settings.
When you have access to Games reporting:
The Reports snapshot page updates to include game-specific summary cards
The list of reports in the left navigation updates to include the categories of Games reporting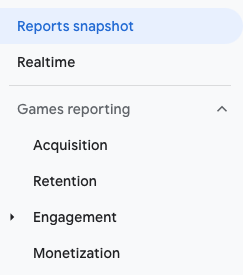 The Reports snapshot page
The Reports snapshot page lets you see key metrics from every area of the customer journey so you can have an overview of how your business is performing and where changes are occurring. Summary cards on this page link to their respective user acquisition, retention, engagement, and monetization reports for deeper analysis. Insights are integrated to help you identify key opportunities to drive your business forward.
Analyze the user funnel
These reports are intended to mirror the player funnel and provide an industry-standard set of dimensions and metrics that let you understand how you acquire users, how you keep them coming back, and how well you generate revenue.
Acquisition focuses on the numbers of new users and the methods of acquisition (e.g., medium, source, campaign, ad network).
Retention tracks how effectively you turn new users into returning users and what percentage of users keep coming back (e.g., from Day 1 to Days 7, 14, and 28).
Engagement measures user activity by event count, the amount of time users engage in game play, and the number of times users initiate game play (sessions).
Monetization is all about in-app-purchase revenue, buyers, and transactions: how much money you're making overall, how much you're making per user and transaction, and the extent to which users are becoming buyers.
Use these reports to understand where in the user funnel you're succeeding and where you have opportunities to improve.
Metrics
Games reporting includes automatically calculated metrics, such as Buyer Conversion and Revenue Heartbeat, that are based on Google Play's recommended key performance indicators. For more information on game-specific metrics, see the Games section of Reports, dimensions, and metrics.
Related resources