Why data may be withheld from reports and explorations
If you have limited access to data in a report or exploration, it may be because a data threshold has been applied. Data thresholds are applied to prevent anyone viewing a report or exploration from inferring the identity or sensitive information of individual users based on demographics, interests, or other signals present in the data.
Data thresholds are system defined. You can't adjust them. However, you can make changes in Google Analytics that decrease the likelihood of data thresholds appearing.
Show me how
What you'll see
When the data in a report or exploration is limited due to data thresholds, the data quality indicator at the top of the report includes the message, "Google Analytics has applied thresholding to one or more cards in this report and will only display the data in the cards when the data meets the minimum aggregation thresholds."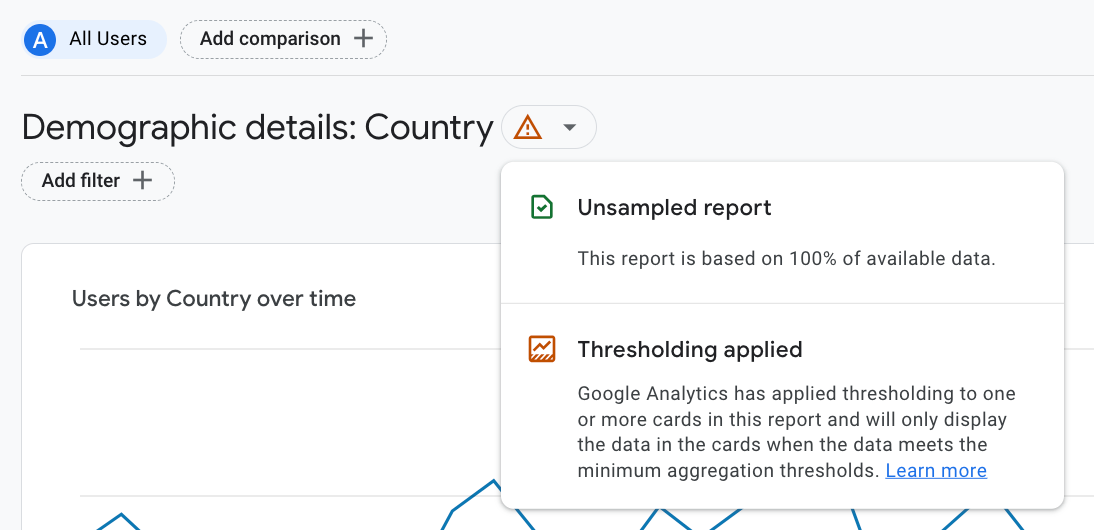 When data thresholds are applied
Demographics data
Data may be withheld when viewing a report or exploration or making an API call that includes demographic data or audiences defined using demographic data.
Google signals
Data may be withheld when Google signals is enabled and either the blended or observed reporting identity is used, and you have a low user count in the specified date range. When Google signals has been enabled, reports with low user counts may continue to be subject to thresholding for a period of time after Google signals is disabled. If the device-based reporting identity is used, you should not see data thresholding.
Search query information
If a report or exploration includes search query information, the row containing that data may be withheld if there aren't enough total users.
What you can do
While you can't adjust data thresholds, you can make the following changes to decrease the likelihood of thresholds appearing:
Adjust the date range
Data may be withheld when viewing a report or exploration within a narrow date range if you have low user or event counts in that date range. Expanding the date range may increase the number of users who triggered an event, enabling you to see the previously thresholded data.
Export to BigQuery
Analytics doesn't export data from Google signals to BigQuery. You may see different event counts per user between Analytics and BigQuery. Since Google signals deduplicates user counts from individual users, you may also see different user counts between Analytics and BigQuery.
Turn off Google signals in reporting
If you've activated Google signals for your property, turn off Include Google Signals in Reporting Identity on the Data Collection page in Admin to omit specific demographics and interest data from reports—specifically, data from signed-in, consented users. This option is useful if your property uses the Blended or Observed reporting identity, as it can help reduce the likelihood of data thresholding. Google Analytics will still collect Google signals data when this option is turned off so you can use the Google signals data in audiences and conversions, and share the data with linked Google Ads accounts for remarketing and bid optimization.