Inzicht in uw gebruikers en hun activiteit krijgen met rapporten
Uw Google Analytics-account bevat kant-en-klare rapporten waarmee u gegevens van uw websites en apps kunt analyseren. Naast de rapporten die Google biedt, kunt u uw eigen rapporten maken zodat u de informatie kunt bekijken die u belangrijk vindt.
Analytics bevat standaard het rapport Snapshot van rapporten, het rapport Realtime en de volgende rapportcollecties en -onderwerpen. Als u uw gegevens verder wilt analyseren, kunt u verkenningen en BigQuery gebruiken.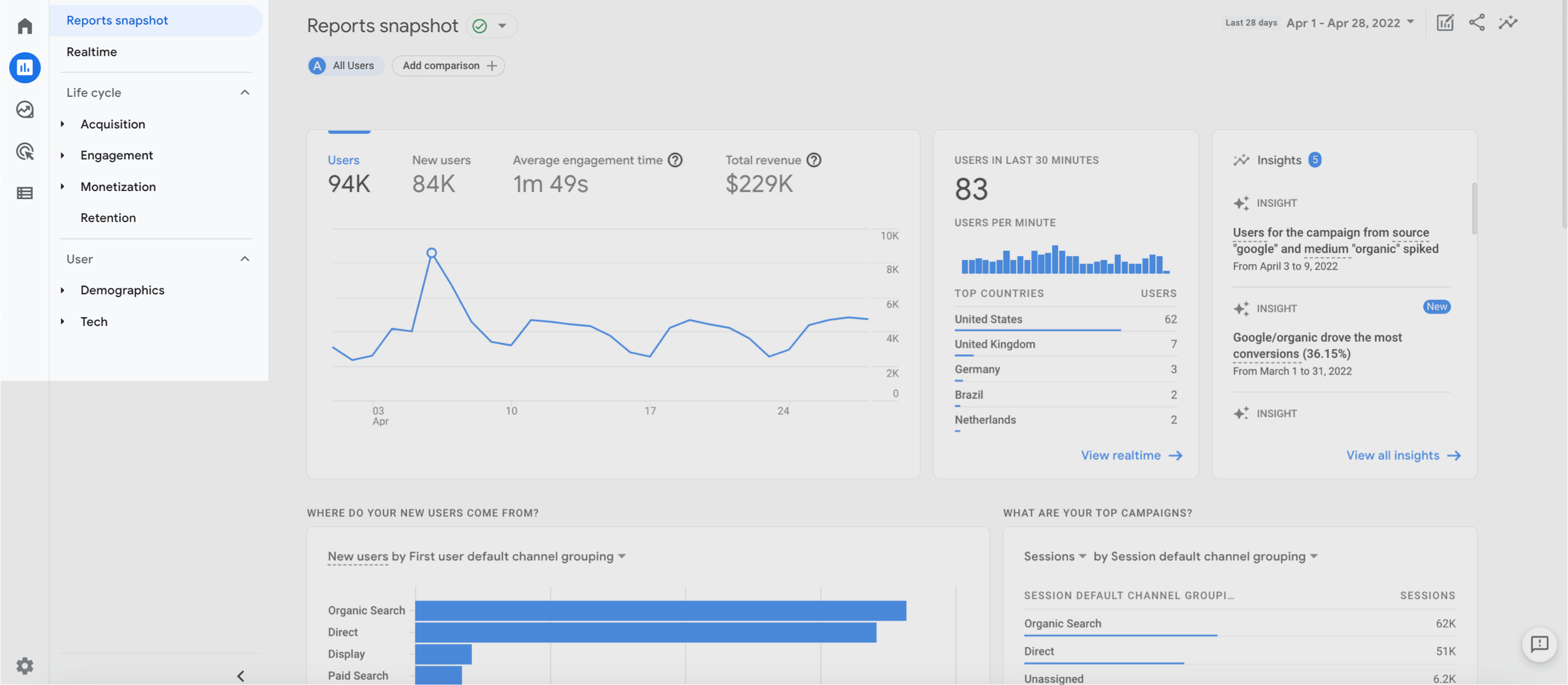 De collectie Levenscyclus
De collectie Levenscyclus bevat de volgende rapporten waarmee u meer inzicht krijgt in gebruikersactiviteit van acquisitie tot conversie:
Analytics vervangt de collectie Levenscyclus door de verzameling Rapportage over games als uw branchecategorie is ingesteld op Games of minstens 50% van uw app-streams zijn gekoppeld aan apps die zijn gecategoriseerd als games.
De collectie Gebruiker
De collectie Gebruiker bevat de volgende onderwerpen waarmee u meer te weten komt over de mensen die uw site of app gebruiken:
Demografie categoriseert gebruikers op leeftijd, locatie, interesses en meer.
Technologie toont de technologieën die mensen gebruiken en de implementatie van verschillende releases.
De collectie App-ontwikkelaar
Als u de SDK van Google Analytics voor Firebase (GA4F) gebruikt in uw app, voegt Google de collectie App-ontwikkelaar toe in het linkernavigatievenster. De collectie biedt informatie over uw gekoppelde apps.
De periode aanpassen
Standaard tonen de rapporten in Google Analytics gegevens voor de afgelopen 28 dagen. U kunt de periode aanpassen met het dropdownmenu rechtsboven in het rapport. Als u de periode voor één rapport wijzigt, wordt de periode ook gewijzigd in de andere rapporten voor uw account. U kunt de periode in het rapport Realtime niet aanpassen.