Increase the accuracy of your results by exploring unsampled data.
Google Analytics 360 users can create explorations that include up to 50 billion events by requesting unsampled data. This makes the exploration more accurate and can reveal insights that aren't visible in standard explorations.
In this article:
Request an unsampled exploration
You must have Analyst or higher permissions on a property to run unsampled requests. Contact your Google Analytics Administrator if you have questions about your permission level.
Note
: Unsampled explorations are only available for Google Analytics 360 for GA4 properties. Additionally, to request unsampled data, the results of the current exploration must be sampled. Finally, unsampled data is only available for supported techniques. See the
limits section
below.
On the left navigation, select Explore.
Create a new exploration or edit an existing one.
Configure exploration to find the insight you are looking for.
When you've finished setting up the exploration, in the top right, click Data quality.

TIP

: The data quality icon is red or yellow if the results are currently sampled, and green if unsampled.

Click Request unsampled results.
Click Proceed.

NOTE: You need to have sufficient tokens for your property to run the request.
What happens next
When you request an unsampled exploration, a new tab opens. This is where your unsampled results will appear. When the unsampled request is completed, you'll receive an email with a link to this tab. You can also refresh the page to see the data in this new tab when it's ready.
Unsampled requests typically take less than 30 minutes but can take longer depending on the total demand on the system from all users.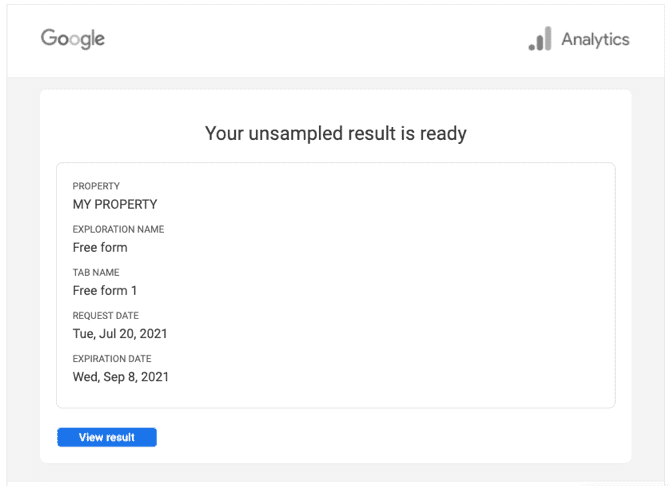 Tokens
To request an unsampled exploration, you'll spend "tokens:"
Each Google Analytics 360 GA4 property has a quota of 300 tokens per property per day, shared by all users of the property.
These tokens allow the property to query up to 50 billion events in total per day, across any number of explorations.
The quota is reset at midnight Pacific time.
When you request an unsampled exploration, you'll see the remaining quota (rounded down to the nearest 100) and the approximate amount of tokens required for the request.
You can have as many pending requests as allowed by your property's quota. Each request is processed independently.
TIP: If you have less quota than you expect, based on your own usage, it's likely that other users of the property have spent some tokens. Since explorations with unsampled results are shared with all users in the property, you might be able to see which users are running these requests by looking at the list of shared explorations in the Explorations home page.
NOTE: It's not possible to adjust the number of tokens used to limit the amount used by a given request. For example, if your request would return 10 billion events, but you only have enough tokens remaining to return 9 billion, you can't request just the 9 billion results. You can try adjusting the date range of the exploration to reduce the number of events requested. Otherwise, you'll need to wait until your quota refreshes to send the request.
Using unsampled explorations: an example
Suppose you want to explore 6 months' worth of data, but each month contains over 1 billion events, and the entire 6 month data is over 50 billion events? As a solution, you can create separate tabs of unsampled data for each month.
Start with an original exploration in tab 1, set the date to January, and request the unsampled results for that exploration. Repeat this process for each month for which you want the result, changing only the month, so as to have one unsampled result for each month requested.
Differences between standard and unsampled explorations
Standard explorations (in other words, the default results when you use the Explorations workspace) may be sampled or unsampled, depending on the amount of data involved in the query.
Explorations in Google Analytics 360 properties that are explicitly requested to be unsampled differ from standard explorations in a few important ways:
Unsampled explorations aren't real-time
Unlike standard explorations, which show the results in a few seconds, you'll need to wait for an email notifying you when your unsampled results are ready.
Unsampled explorations are read-only
You can't edit an unsampled exploration. Once requested, you can't edit or change the dimensions or metrics, change the visualization, add or remove filters, create segments or audiences from the data, or change the date range, etc. You can, however, rename the exploration and any tabs, and add new tabs.
Unsampled explorations are snapshots of your data
Unsampled explorations are static: the data won't change as time goes on or because of changes made to your property. For example, the exploration won't be affected by data deletion requests, adding new custom dimensions and metrics, modifying events, etc.
Unsampled explorations are temporary
Unsampled results tabs are automatically deleted 50 days after they were requested. To preserve this data, you can export to one of the supported formats (Google Sheets, CSV, PDF, etc.)
Unsampled explorations are shared with your property
If you request unsampled results in an exploration that's private to you, the exploration is shared with the property. To make the exploration private again, delete the unsampled results tab, and mark the analysis as unshared.
Limits of unsampled explorations
Unsampled explorations are a Google Analytics 360 only feature.
Unsampled explorations are only available if the query would return more than 1 billion events. (GA360 properties already can query up to 1 billion unsampled events.)
You can only request unsampled results if the current results are sampled.
Explorations have a maximum of 10 tabs that can be added. If there are more than 10 tabs in the report, you cannot request unsampled exploration results.
Each property can request a maximum of 50 billion events per day.
The user lifetime technique doesn't support unsampled explorations.