Tworzenie kampanii produktowej
Kampanie produktowe pomagają promować produkty, dostarczając użytkownikom szczegółowych informacji o tym, co sprzedajesz, jeszcze zanim klikną oni Twoją reklamę. Korzystając z narzędzi dostosowanych do potrzeb handlu detalicznego, będziesz w stanie śledzić efektywność swoich produktów w czasie. 
W tym artykule przeprowadzimy Cię przez proces konfiguracji kampanii produktowej w AdWords. 
Zanim zaczniesz
Jeśli kampanie produktowe to dla Ciebie nowość, zapoznaj się z artykułem Kampanie i reklamy produktowe – informacje.
Przed utworzeniem kampanii produktowej sprawdź, czy spełniasz wymagania.
Instrukcje
Wybierz wersję AdWords, z której korzystasz. Więcej informacji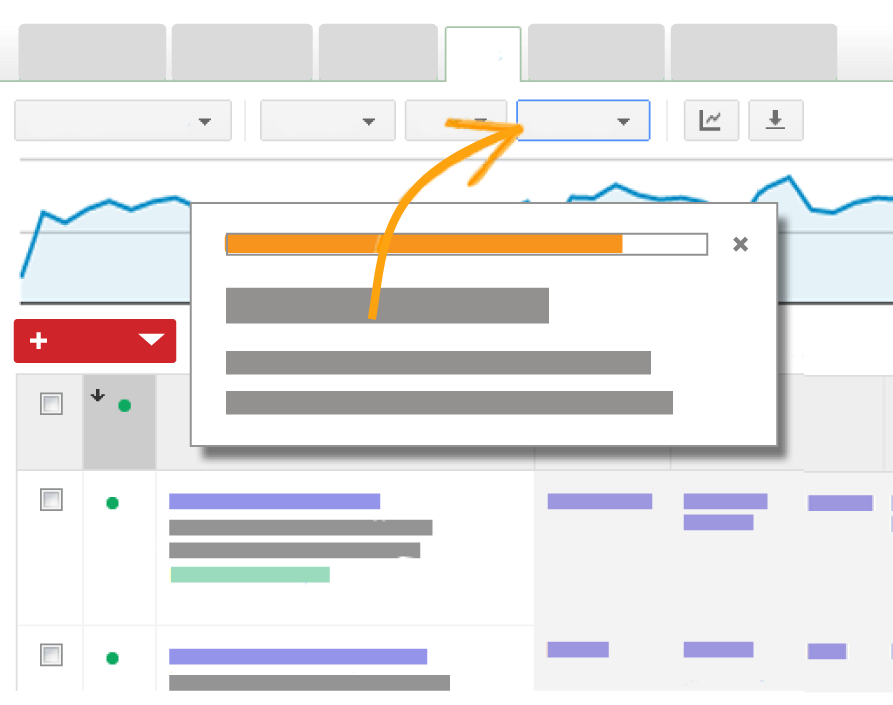 Kliknij przycisk "Pokaż, jak to zrobić" poniżej, aby przejść na swoje konto i otrzymywać instrukcje podczas wykonywania poszczególnych czynności.

Pokaż, jak to zrobić
Oto szczegółowe instrukcje tworzenia kampanii produktowej:
Zaloguj się na konto AdWords.
Kliknij kartę Kampanie. Następnie kliknij + Kampania i wybierz Kampania produktowa.
Nazwij swoją kampanię na stronie "Wybierz ustawienia kampanii". Jeśli chcesz korzystać z takich samych ustawień kampanii jak w przypadku innej kampanii produktowej, wybierz odpowiednią kampanię z menu "Istniejące kampanie" obok opcji "lub wczytaj ustawienia z".
Podaj identyfikator sprzedawcy, klikając menu Wybierz konto i wybierając identyfikator sprzedawcy. Identyfikatorem powinno być konto Google Merchant Center powiązane z produktami, które reklamujesz w danej kampanii produktowej.
Z menu obok pozycji "Kraj sprzedaży" wybierz kraj, w którym sprzedajesz produkty reklamowane w danej kampanii. To ustawienie określa, które produkty z zasobów dostępnych w Merchant Center są reklamowane w danej kampanii. Filtruje ono produkty na podstawie powiązanego z nimi kraju docelowego.
Jeśli chcesz korzystać z opcjonalnych ustawień "Priorytet kampanii" i "Filtr zasobów", kliknij Ustawienia kampanii produktowych (zaawansowane).
Użyj opcjonalnego ustawienia "Priorytet kampanii", jeśli masz wiele kampanii produktowych reklamujących ten sam produkt i chcesz określić, której kampanii (i powiązanych z nią stawek) chcesz używać w reklamach tych produktów. Domyślnie priorytet wszystkich kampanii produktowych jest ustawiony na "Niski". Aby go zmienić, wybierz "Średni" lub "Wysoki", kierując się tym, jak bardzo priorytetowo chcesz traktować daną kampanię w stosunku do innych kampanii produktowych, w których reklamowane są te same produkty. Dowiedz się więcej o ustawianiu priorytetu kampanii.
Opcjonalny "Filtr zasobów" umożliwia ograniczenie produktów reklamowanych w kampanii produktowej na podstawie wybranych atrybutów produktów na koncie Merchant Center. Domyślne ustawienie filtru zasobów to "Brak – użyj wszystkich produktów w kraju sprzedaży (zalecane)". Aby je zmienić, wybierz opcję Utwórz niestandardowy filtr.

W dwóch menu dostępnych pod nagłówkiem "Pasuje do wszystkich poniższych" wybierz atrybut i odpowiadającą mu wartość produktów, które chcesz uwzględnić w kampanii produktowej.
Aby dodać kolejny filtr, kliknij + i wybierz atrybuty tak jak poprzednio. Możesz ustawić maksymalnie siedem filtrów atrybutów.

Kampanie produktowe domyślnie wyświetlają produkty sprzedawane w internecie. Jeśli chcesz, aby kampania produktowa obejmowała produkty sprzedawane w lokalnych sklepach, użyj reklam lokalnego asortymentu produktów. Po przesłaniu zweryfikowanego pliku danych o produktach dostępnych lokalnie do Google Merchant Center możesz uwzględnić produkty ze swoich lokalnych sklepów w kampaniach produktowych, zaznaczając pole "Włącz reklamy lokalnego asortymentu produktów". Będziesz mieć wtedy możliwość filtrowania lub podziału swojego asortymentu pod względem kanału i wyłączności kanału. Więcej informacji o korzystaniu z reklam lokalnego asortymentu produktów
W sekcji "Lokalizacje" wybierz obszary geograficzne, w których mają się wyświetlać reklamy produktowe z tej kampanii. Możesz uwzględnić lub wykluczyć określone lokalizacje.
Domyślnie kampanie produktowe wyświetlają reklamy w sieci wyszukiwania Google i w witrynach partnerów w sieci wyszukiwania Google. Sieć wyszukiwania Google obejmuje Google.com i Google.com/shopping. Partnerzy w sieci wyszukiwania obejmują witryny firm zewnętrznych, w których wyświetlane są produkty na sprzedaż oraz linki do nich. Dzięki partnerom w sieci wyszukiwania możesz dotrzeć do większej liczby kupujących, zwiększyć swoją widoczność i liczbę odsłon produktu. Możesz usunąć zaznaczenie pola wyboru "Dodaj partnerów wyszukiwania", jeśli nie chcesz uwzględniać ich w swojej kampanii.

Domyślne ustawienie w sekcji "Strategia ustalania stawek" to "Samodzielnie ustawię stawki za kliknięcie", co oznacza, że będziesz ustawiać własne maksymalne stawki za kliknięcie (maks. CPC). Zajmiemy się tym w następnym kroku.

Jeśli używasz śledzenia konwersji, opcja "Włącz Ulepszony CPC" jest automatycznie wybrana. Ulepszony koszt kliknięcia (Ulepszony CPC) automatycznie dostosowuje Twoje stawki ustalane samodzielnie, aby zmaksymalizować liczbę uzyskiwanych konwersji, zachowując łączny koszt na dotychczasowym poziomie. Więcej informacji o określaniu stawek ulepszonego CPC w kampanii produktowej.

Wpisz maks. stawkę CPC obok pozycji "Stawka domyślna". Ta stawka dotyczy pierwszej grupy reklam i grupy produktów stworzonej w ramach kampanii. Stawki możesz skorygować później na karcie "Grupy produktów".
Obok pozycji "Budżet" określ, czy w kampanii ma być używany "budżet indywidualny", czy też chcesz zastosować budżet z udostępnianych zasobów. W przypadku budżetu indywidualnego podaj kwotę, jaką chcesz codziennie wydawać w ramach tej kampanii (pamiętaj, że rzeczywista kwota może się nieco różnić). Więcej informacji o budżetach wspólnych.
Wybierz dodatkowe opcje zaawansowane kampanii, w tym metodę wyświetlania, harmonogram wyświetlania reklam i dynamiczny link monitorujący.
Kliknij Zapisz i kontynuuj.
Wyświetli się strona Utwórz grupę reklam. W sekcji "Tworzenie grupy reklam" musisz podjąć pewne decyzje związane z organizacją kampanii. Sposób organizacji ustawień zależy od celów kampanii. Pamiętaj, że w razie potrzeby zawsze możesz później zmienić organizację kampanii. Dowiedz się, jak używać grup reklam w kampanii produktowej.
Sprawdzone metody
Przeczytaj przewodnik Google dotyczący sprawdzonych metod i dowiedz się, jak wykorzystać optymalizację kampanii produktowych do pozyskiwania współczesnych konsumentów, którzy mają stały dostęp do internetu.
Optymalizacja kampanii produktowych – sprawdzone metody Google
Czy ten artykuł był pomocny?
Jak możemy ją poprawić?