About the Google bar
The Google bar runs across the top of many Google services and offers easy access to Google's products. It also helps you search, share, and manage your account.

Even if you aren't signed in to your Google Account, you can still navigate to other Google products by clicking the

App Launcher icon and selecting a specific product. Click More to reach additional properties.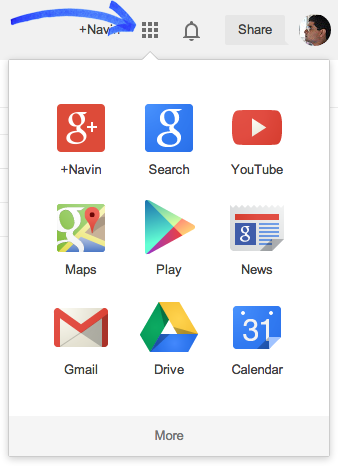 The Google bar may contain a search box for the Google service you're currently using. If you're a Google+ user, to the right you'll also see a notifications icon and a Share button to share a post to Google+.
To sign out, switch accounts, or manage your account, click your picture on the upper right hand side and select the appropriate action. If you see your email address at the top instead of a photo, you can click that as well.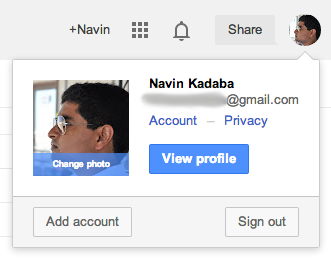 The Google bar's notifications icon displays the number of unread Google+ notifications, which you can view by by clicking on the bell icon.
You can also share to your circles on Google+ by clicking "Share" from the Google bar. The icons at the bottom of the box can be used to add photos, videos, links, or events to your post.