When you search for videos and other content on YouTube, you can refine your search by using filters.
After typing your search query in the search box at the top of any YouTube page, click the Filters drop-down menu below the search box.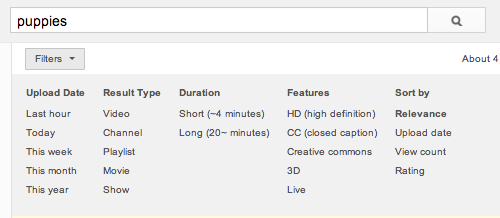 You can filter by the type of content (e.g. video, playlist or movie). For example, if one cute puppy video isn't enough, you can find an entire playlist of cute puppy videos by clicking Playlist under "Result Type" in the Filters drop-down menu.
Here are some examples of other ways to filter your search:
Upload date
Video quality
View count
Video length