YouTube Campaigns is a feature that lets non-profits use their videos to create campaigns with goals like increasing views or subscribers. All videos in a campaign will feature a sepcial interactive annotation informing and encouraging your viewers to help contribute to your goals. Your channel will also display and track campaign progress.
Getting Started
To start a campaign, first create a playlist of videos you want to turn into a campaign.
Next, go to your channel and find the Campaign tab to the right of Browse Videos.



Inside the Campaigns tab, click the Start a Campaign Now! button to go to the campaign editing page.
You can also navigate directly to the campaign editing page to begin creating your campaign.
Creating your campaign
In the editing page, you'll find controls to name your campaign, choose videos are part of it, and what goal you'd like to set. After adding a title, be sure to configure these settings:
Select a playlist: Choose the playlist you want the campaign to run on.
Campaign Description: Describe your campaign. There is a 5000 character limit to the amount you can type here.
Campaign Goals: Select the type of goal you want to drive for your campaign. Goals available currently are increasing views, and increasing subscriptions. Choose your target and set an end date for when your campaign will end.
Auto Annotations: With this feature turned on, special interactive annotations will appear on videos that are part of your campaign.
Privacy: Make your campaign public or private.
Once these settings are entered, click Create Campaign at the top of the page to create your campaign.
With your campaign live, you'll see annotations appear on your campaign videos like below: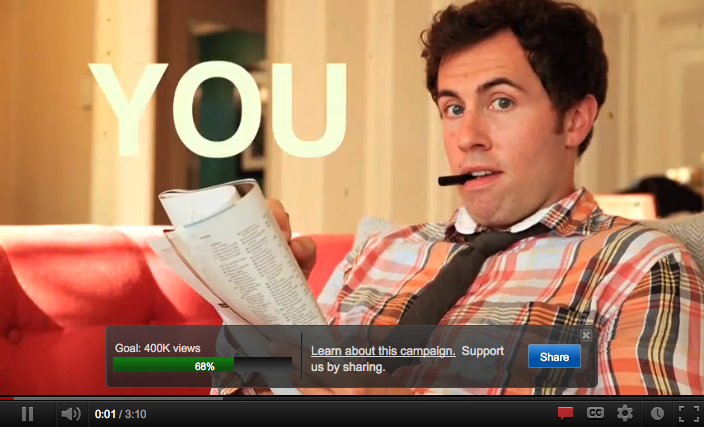 Your channel will also have content in the Campaign tab, and display a progress bar toward your goal.
Your and your audience can also share your campaign on social networks using the Share this campaign button.
Managing campaigns
To manage existing campaigns, simply visit the Campaign tab and click the Manage campaigns button at the top of the page.
Only one campaign can run at a time. To launch a new campaign, end/remove your current campaign and start a new one.