By adding videos to your "Favorites" or "Watch Later" lists, you can easily access them whenever you want, whether you want to watch them again, or for the first time!
Add videos to lists
First, sign into your account so you can save the videos to a list. If you don't have an account,
create an account
.
Click the Add to link underneath the video, then click Favorites or Watch Later in the grey box. Or, you can also hover a thumbnail and click the clock icon to quickly add it to the watch later list.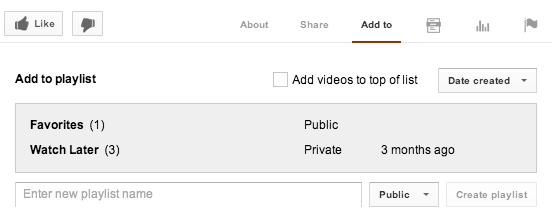 Sometimes it may take a few hours for videos to show up in your lists. If you've waited for a couple days and the videos still aren't showing up, clear your browser's cache and cookies.
Find your "Favorites" and "Watch Later" lists
To access your Favorites list, click Playlists on the left side of any YouTube page, then Favorite videos. Access your "Watch Later" list by clicking Watch Later on the left side of any YouTube page.