In the Info and Settings tab, you can customize your Channel's Title, Description, Tags, and also set which tab users will see by default when they visit your Channel.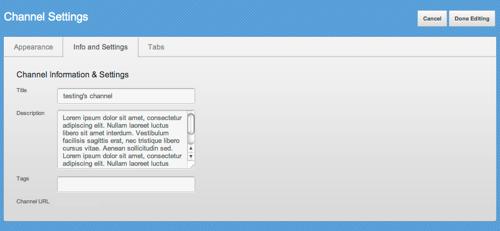 Make sure to give your Channel a name and description that make sense. We will use this name and description wherever your Channel is found on YouTube, and they are also displayed in the "About" section on your Channel. The title you choose will be shown at the top of your Channel, next to your Avatar, so make it good! The character count of the Channel description is 1,000 characters, but only 250 characters will be exposed by default in the "About" section, with the remainder available behind a "more" link. Be sure to write concise and useful descriptions; this shortened version of this description will also appear across the site.
Give your Channel descriptive tags - this can only work in your favor as we use these tags to show your Channel to users in search. Like with video tags, when users type keywords related to your tags, your Channel can appear in their search results.