YouTube Analytics lets you monitor the performance of your channel and videos with up-to-date metrics and reports. There's a ton of data available in different reports (e.g. Views, Traffic sources, Demographics).
Access YouTube Analytics directly through youtube.com/analytics. Or sign in to your YouTube account and click on the arrow next to Upload at the top of the page, then Analytics.. Then, use the left hand menu to navigate to all the different YouTube Analytics reports.
Viewing data in YouTube Analytics
Here are some basic ways of viewing and understanding all the different types of data you'll find in the various YouTube Analytics reports.
Filter your data
At the top of many reports you can get the precise information you're looking for by filtering your reports by Content, Geography, and Date.

Line chart
Line charts shows how your video data has changed over time. You can customize the following options:
Date granularity: Charts can be displayed with data points in daily, weekly, or monthly increments.
Compare metric: Select a second metric for comparison, which will displayed on the graph. For example, you can plot Viewers next to Unique Cookies.

Interactive map
The interactive maps show where your video is being viewed. Darker areas on the map mean that more people are watching your video in that location. You can also hover your mouse over countries on the map to see detailed data for the country.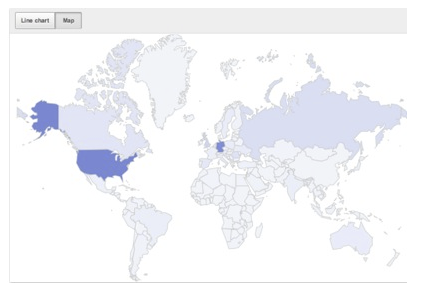 Download your reports by clicking the Download report button at the top of the page. The report will only include the information that's displayed on the page at the current time--changing your filters and so forth will affect the data that is downloaded.